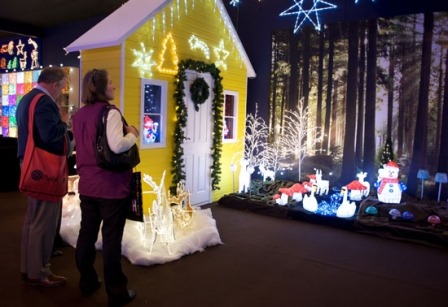 The rest of us may only just have packed away the last bauble but at HIC this week it's all eyes on Christmas again.
The venue welcomes the return of the Harrogate Christmas & Gift Fair for the 63rd year and the show, which was previously known as the Harrogate Toy Fair, continues to attract an increasing number of visitors. Last year attendance was up 25% on 2010 and this year is expecting a further rise.
The team behind Harrogate Christmas & Gift Fair also brings the enormously popular Harrogate Nursery Fair to the town later in the year and is responsible for attracting in excess of 8,000 visitors to Harrogate over the two events. Anyone trying to get a table at a restaurant in town this week will know there is a popular exhibition taking place.
Robert Anslow, a director at HITF, said:
The visitors and exhibitors alike love coming to Harrogate and even in this challenging economic climate, we are still expanding the show and have taken an extra 500sqm by utilising one of the new halls for the first time. One of our major exhibitors, Premier Decorations, is the first company to use Hall H and is very pleased with how it is working them.
Angus Houston, director at HIC, added:
We welcome Robert and his team here again and are delighted that as one of our most loyal and valued customers, HITF has recently signed a three year deal to keep the Harrogate Christmas & Gift Fair and the Harrogate Nursery Fair in Harrogate. It's a strange sight to be surrounded by Christmas trees and baubles in January, but one of the joys of this job is you never know what you're going to come across when you head into the exhibition halls – I've even seen Santa on a scooter today!
Aside from a dazzling array of baubles, decorations and trees – new for this year at the show are Christmas Glasses which allow the wearer to be dazzled by festive images and Cardoo Cards which is putting the fun back into cards and include games, activities, stickers, crosswords and more all for the price of a regular card. Keep an eye out this Christmas for these.
The Harrogate Christmas & Gift Show lasts for four days and closes on the 18th January. The Harrogate Nursery Fair starts on 25th – 27th March 2012.
Simon Anslow, Adrian Sneyd, Robert Anslow