Harewood House near Leeds, West Yorkshire will be the venue for the Tourism & Events Showcase, organised by Group Travel Organiser magazine, on Saturday 4th February 2012.
Organised by Group Travel Organiser magazine – and sponsored by the Yorkshire Attractions Group and Leeds Pennine Yorkshire – the event is aimed at anyone who organises social visits, group and event organisers and members of the travel trade industry.
On Saturday 4th February, there will be an exhibition in the Pavilion overlooking the glorious 18th century Grade I listed Harewood House that will bring together people from over 60 attractions, venues, destinations, tour operators and accommodation providers under one roof and offer them the opportunity to discuss their requirements face-to-face and pick up new and exciting ideas for group activities.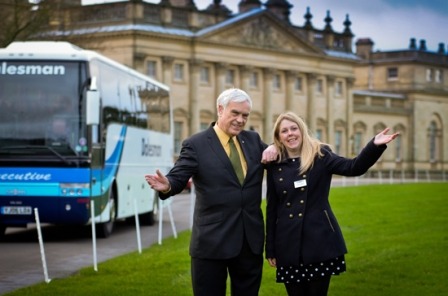 Leonard Green from Group Travel Organiser and Torry Leathley, Groups Coordinator at Harewood House 
Sunday 5th February will be set aside for familiarisation trips to a selection of Yorkshire's Magnificent Attractions, a consortium of 21 major attractions in the region, including the Royal Armouries and Thackray Museum in Leeds and the new £35 million waterfront gallery, The Hepworth Wakefield.
Adrian Gates from Group Travel Organiser said:
We chose Harewood House as a venue for this important event not only because the building provides a magnificent backdrop but because of its accessible location close to the A1/M1 – within easy reach of the wider Yorkshire region – and its proven track record for hosting large-scale events of the highest standard. It's also a perfect day out for groups!

It's fantastic news for Harewood and Yorkshire as a whole that events of this calibre will be held here. Not only will all the market's major players be brought together under one roof on the Saturday, but the Sunday fam trips will also give GTOs the chance to get a taste of what Yorkshire and its attractions has to offer.
The Group Travel Organiser magazine states that the domestic travel market is worth around £142 million, with its core market being made up of over-55s. The proportion of UK group visits which are day trips has increased at the expense of short breaks, with longer breaks remaining static since 2006. GTOs book and travel throughout the year, although the shoulder season, particularly spring and autumn are when most trips are undertaken, and word-of-mouth and personal experiences tend to act as the key influencers.
To register your interest in attending, simply visit www.tourismshowcase.com, call 0845 166 8131 or e-mail info@tourismshowcase.com