Six men have today (Tuesday 10 January 2012) been sentenced to a total of 88 weeks in prison and ordered to pay £5,100 for animal cruelty offences.
The sentencing follows an eight day trial of the men and a youth at Scarborough Magistrates' Court in December 2011 for crimes committed at Howsham, near York, in January 2011.
Alan Alexander, 32, from York, Richard Simpson, 37, from York, Paul Ian Tindall, 31, from York, William Edward Anderson, 26, from Pickering were each sentenced to 16 weeks' imprisonment. Forfeiture orders were also made for the guns owned by Alexander and Anderson.
Christopher Martin Holmes, 28, and Malcolm David Warner, 28, of York were both given 12 weeks' imprisonment, suspended for 12 months. They were also ordered to carry out 200 hours of unpaid work.
All six men were each ordered to pay £750 costs and £100 compensation.
A 17-year-old from York, who cannot be named for legal reasons, was given a Youth Rehabilitation programme, ordered to carry out 10 sessions with the RSPCA's Animal Cruelty and Care Unit and attend 18 Thinking and Behaviour sessions with supervision.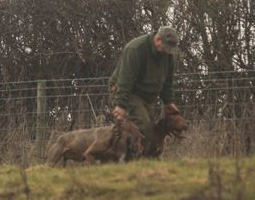 Sergeant Paul Stephenson, of Malton Safer Neighbourhood Team, said:
I am very pleased with the sentences the judge has handed down.

I hope that those who are intending to commit this vicious and barbaric type of crime in North Yorkshire get the clear message that their actions will not be tolerated. When they are caught offenders will be dealt with robustly and put before the courts, where they can expect to face the consequences of their actions.

I would again like to thank the witnesses for the courage they displayed and the RSPCA and the prosecution team for their help to prepare the case. This was an excellent joint effort with a successful outcome.