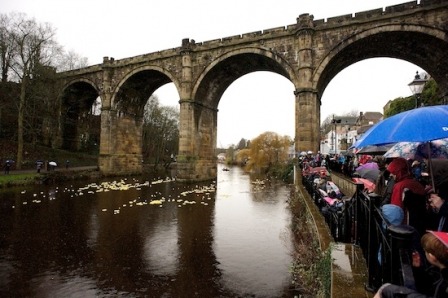 Over 5,000 toy ducks were launched into the river Nidd in Knaresborough from High Bridge, at 1.30pm on Sunday 1st January 2012.
The event was run by Knaresborough Cricket Club and was in support of its own funds and Henshaws Society for blind people.
Initially it looked like a poor turn out by spectators, but most people left it until the very last minute due to the rainy weather. People lined the river bank from the start to the finish line at Marigolds Café with the ducks making what looked like record time.
Hannah Saxon, Henshaws, Community and Events Fundraiser said:
We were delighted to of been chosen to be part of the duck raise for the second year running and we really enjoy being part of local events such as this.
The first ten ducks will receive a cash prize, from £100 to £10.