2012 at Harrogate Theatre heralds yet another comedy show line-up to suit all tastes, after 2011 saw the most successful Harrogate Comedy Festival to date and appearances from some of the biggest and best names in British and international comedy throughout the year.
Tickets are almost sold out for comedy heavyweights Stewart Lee (Wednesday 29 February) and Chris Addison (Friday 3 February) but an extra date for Chris has been added on Wednesday 6 June due to this popular demand. 
Ex-heavy metal drummer and Australian comic SteveHughes, who stormed the stage this month on Live at the Apollo alongside comics Sarah Millican and Russell Kane embarks on his debut national tour which stops off at Harrogate Theatre on Monday 6 February.
Seasoned comic Richard Herringreturns to the Harrogate Theatre stage on Wednesday 22 February with yet another hit show. 
And in Harrogate Studio Theatre the line-up includes subversive and charming Josie Long on Friday 27 January and silent movie-esque style comedy from Awkward Cough Theatre Company on Tuesday 7 February in the Harrogate StudioTheatre. 
And not forgetting, Harrogate's longest running monthly comedy club the Hyena Comedy Club, which has now moved to the more convenient Saturday night, due to popular demand, boasts a great January line-up, including none other than the cheerful Geordie comic Jason Cook(Saturday 21 January).
Josie Long
Harrogate Studio Theatre
Friday 27 January 8pm Tickets £12/£10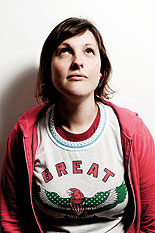 After a smash-hit appearance at 2010's Harrogate Comedy Festival with her last show Be Honourable, which earned her an Edinburgh Comedy Award nomination alongside Russell Kane, Greg Davies, Bo Burnham and Sarah Millican, Josie Long is back in Harrogate with her fifth solo show. Josie's new show is about feeling newly tormented by the world and about optimism and despair.  But that sounds more serious that it is.  Expect a silly, manic round-up of all kinds of things.  The show has two clear aims; to fight some sort of a cool gang or something or to fight injustice. Her unusual style of comedy shot her to cult fame after she won Edinburgh Festival's esteemed Best Newcomer award in 2006, and she has worked extensively with a number ofhighly acclaimed comedians including Robin Ince as well as supporting Stewart Lee on his 2005 national tour.  Josie has also guested on a number of television shows including Never Mind the Buzzcock and as well as appearingon Just a Minute, her very own radio series Josie Long: All of the Planet's Wonders (Show in Detail) was broadcast on BBC Radio 4 in early 2009.  She has also written for and appeared in Channel 4's teen comedy-drama Skins. Josie Long will be in appearing in the Harrogate Theatre Studio on Friday 27 January with the performance starting at 8pm.  Tickets are £12 with concessions available and can be booked through Harrogate Theatre Box Office on 01423 502116 or  online at www.harrogatetheatre.co.uk
Chris Addison
Harrogate Theatre
Friday 3 February 8pm SINGLE SEATS AVAILABLE
Wednesday 6 June 8pm EXTRA DATE ADDED – TICKETSAVAILABLE
Fresh from Channel 4's brand new comedy showcase Show & Tell, The Thick of It, Mock the Week, Have I Got News For You and hissell-out 2010 tour, Chris Addison, the man who put the 'Chris Addison' into "I see Chris Addison is touring again," is touring again.  He's written a brand new show, The Time is Now, Again, specifically for Harrogate Theatre (and about 40 other venues, but the point still stands.)  Top class stand-up from arguably one of the classiest, toppiest stand-ups around.
An established stand-up and writer, Chris Addison is regarded as one of the most versatile comics on the circuit with his pacy, energetic routines and faultless delivery. His particularly polite brand of observational comedy may catch audiences off guard as beneath this school boy approach lies a biting, sharp and very ascerbic performer, not afraid to go for the jugular. Chris has enjoyed success as a live performer headlining at the most prestigious comedy clubs including the Comedy Store, the Stand and theBuzz Club.
Chris Addison will be appearing at Harrogate Theatre on Friday 3 February at 8pm and Wednesday 6 June at 8pm.  Tickets cost £20 and can be booked through Harrogate Theatre Box Office on 01423 502116 or securely online at www.harrogatetheatre.co.uk.  Please note single seats only are available for Friday 3 February but tickets are still available for Wednesday 6 June.
Steve Hughes
Harrogate Theatre
Monday 6 February 8pm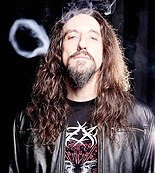 Having stormed the stage recently BBC1's Live at the Apollo, appearing alongside Russell Kane and Sarah Millican,inimitable Australian comic and ex heavy metal drummer, Steve Hughes embarks upon his eagerly-awaited debut tour appearing at Harrogate Theatre on Monday 6 February.  Direct from sell-out shows at the Sydney and Melbourne Comedy Festivals and storming sets on Michael McIntyre's Comedy Roadshow (BBC One), Stand Up For The Week (CH4) & One Night Stand (Dave). 
Steve Hughes has been a hit with critics and audiences alike after his solo shows in 2004, 2005, 2006 & 2007 at the Edinburgh Fringe Festival and has toured internationally with his unique brand of intelligent, straight-talking social commentary.  He recently joined Reginald D Hunter as a special guest on his recent UK tour.  Other television credits include The World Stands Up, Comedy Blue and The Comedy Store for Comedy Central and Comedy Cuts for ITV2.
Steve Hughes is performing at Harrogate Theatre on Monday 6 February with the performance starting at 8pm. Tickets cost £12 with concessions available and can be booked through Harrogate Theatre Box Office on 01423 502116 or online at www.harrogatetheatre.co.uk.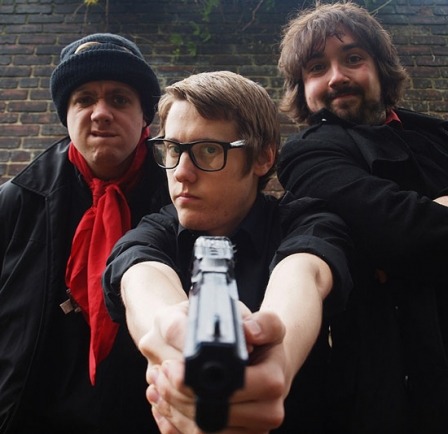 Criminy
Harrogate Studio Theatre
Tuesday 7 February 7.45pm
Harrogate Theatre welcomes back the theatrical comedy trio Awkward Cough Theatre Company for another performance of their smash hit silent comedy Criminy, after a hugely successful run at last year's Edinburgh Festival and sell-out performance in the Harrogate Theatre Studio
The plan was simple: Find bank. Rob bank. Flee bank. Witness the slapstick escapades of three down-on-their-luck stooges, as they squabble, fumble and generally make a giant pig's ear of what should be a straightforward bank robbery. A silent comedy, reinvented with modern flavour, don't miss your chance to witness this exciting young company in this innovative, witty and wonderfully silly piece of classic storytelling.
Established in 2009, Awkward Cough are made of Harrogate-born Samuel Lannacombe Oliver, Ian Farnell and Tom Booth, who all graduated from the University of Hull and have been delighting audiences with their modern silent comedies ever since.  Having experimented with radio comedy and improvised ghost walks (in genuinely unhaunted places), they currently devise plays that reclaim comedy for the theatre taking the magic of old-time silver screen slapstick and re-interpreting it for the stage. 
In a recent interview, Awkward Cough describe the process of making their work, they said: "[W]e're currently playing around with what it means to be 'modern' – the stories we choose to tell, the way in which we tell them, the relationship with an audience, the use of new media, the style, the message, the jokes… but overall we're trying to make stuff that is funny, contemporary, and unlike anything else."
Criminy will be performed in the Harrogate Studio Theatre on Tuesday 7 February at 7.45pm.  Tickets cost £12 with concessions available and can be booked through Harrogate Theatre Box Office 01423 502116 or securely online at www.harrogatetheatre.co.uk.
Richard Herring: What is Love, Anyway?
Harrogate Theatre
Wednesday 22 February 8pm


Richard Herring, best known as one half of the mid 90's comic duo Lee & Herring, returns to Harrogate Theatre following last year's hugely successful Christ on a Bike tour with his Edinburgh Festival smash What is Love, Anyway?
Does Richard's dry-cleaner genuinely love him? How could a romantic gesture involving Ferrero Rocher get dangerously out of control? Find out in what will be in his twentieth Edinburgh Festival show, which tours to Harrogate Theatre on Wednesday 22 February. 
Does anybody love anybody anyway?" asked insane Welsh poet and philosopher Howard Jones in 1983.  Having sorted out religion (Christ on a Bike, 2011) and politics (Hitler Moustache, 2010) Richard Herring now dares to seek to define and destroy the concept of love, before it destroys him.  Again.
As one half of the prolific comedy duo Lee & Herring, Richard Herring enjoyed phenomenal cult success as a writer and performer with shows such as Lionel Nimrod's Inexplicable World,Fist of Fun (BBC Radio 1/BBC2) and This Morning with Richard Not Judy (BBC2).  Richard also currently co-hosts the Saturday morning breakfast show on Radio 6 Music with Andrew Collins and they both continue to record their weekly podcasts together. Recent TV appearances include Genius (BBC2), Have I Got News For You (BBC1) and Never Mind the Buzzcocks (BBC2).
With Al Murray, Richard devised and wrote 37 episodes of the sitcom Time Gentlemen Please (Sky One/Paramount) for Al's alter ego The Pub Landlord. Richard also wrote and starred in the comedy drama You Can Choose Your Friends (ITV1), and in 2008 Richard wrote and recorded a third series of That Was Then This Is Now (BBC Radio 2) as well as presenting Bad Habits (BBC Radio 4).

Richard Herring will be at Harrogate Theatre on Wednesday 22 February at 8pm. Tickets cost £15 and can be booked securely online at www.harrogatetheatre.co.uk or through the Harrogate Theatre BoxOffice on 01423 502 116.
 
Hyena Comedy Club presents:
Jason Cook
Harrogate Theatre
Saturday 21 January 8pm
Hyena Comedy Club
(Line-up still to be announced)
Saturday 25 February 8pm
This January, Jason Cook, as seen recently on Russell Howard's Good News,  headlines Harrogate's longest running monthly comedy club.??Be ready for pretty much anything when Jason Cook takes to the stage.
Behind his cheerful Geordie exterior lurks a dark and sharp comedic mind capable of taking an unsuspecting audience to places they didn't want to go. In 2007, Jason took his first solo stand-up show to the fringe, selling out for the bulk of the run, and earning 5 star reviews.  He then embarked on a sell out world tour and scooped the coveted award for Best International Show at the New Zealand International ComedyFestival, an award previously won by Eddie Izzard and Stephen K Amos. 
This season will see the Hyena Comedy Club move to Saturday evenings which means you can let your hair down, laugh your socks off and not worry about having to get up for work the next day (unless you work on a Saturday that is!).  For only £12 a night you can continue to catch the next big thing in comedy – all on your doorstep.??Over its long residency at HarrogateTheatre many of the Hyena's acts have gone on to become some of the topnames in British comedy including Jason Manford, Alan Carr, Mark Watson, Russell Howard, Rhod Gilbert and Chris Addison amongst many others.
Jason Cook headlines Hyena Comedy Club on Saturday 21 January 8pm at Harrogate Theatre.  The line-up for the Hyena Comedy Club on Saturday 25 February 8pm is still to be announced.  Tickets are £12 with concessions available and can be booked through Harrogate Theatre Box Office on 01423 502116 or securely online at www.harrogatetheatre.co.uk.
Stewart Lee: Carpet Remnant World
Harrogate Theatre
Wednesday 29 February 8pm
Tickets £18.50
Very few tickets are still available for Stewart Lee's date at Harrogate Theatre on Wednesday 29 February 8pm as the acclaimed star of BBC2's Stewart Lee's Comedy Vehicle tours his brand new show Carpet Remnant World. 
What can a sexless middle aged married man, whose life now consists mainly of watching Scooby Doo cartoons with a four year old boy, possibly find to write comedy about?
Formerly stand-up's youthful iconoclast, Lee now gawps blankly at News 24 as Britain burns down around him, and blinks weirdly at the vast wayside retail outlets during endless journeys to and from increasingly indistinct provincial theatres.  Once he lived on the pleasure planet.  Now he is trapped in Carpet Remnant World. And so are you.

Stewart Lee will perform at Harrogate Theatre on Wednesday 29 February 8pm.  There are a very limited number of tickets available, which cost £18.50 each.
Coming Soon – a few upcoming shows in the New Year with a touch of comedy about them…
Show & Tell presents:
John Peel's Shed
Written & Performed by John Osborne
Harrogate Studio Theatre
Friday 3 & Saturday 4 February 7.45pm
In 2002, John Osborne won a competition on John Peel's Radio One show. His prize was a box of records that took eight years to listen to. This five-star, sell-out smash theatre hit of the Edinburgh Festival, broadcast on BBC Radio Four in December 2011, is an ode to radio, those records and anyone who's ever sought solace in wireless. Script edited by Joe Dunthorne (Submarine).   ?
Friday 3 – Saturday 4 February, 7.45pm, Harrogate Studio Theatre
Alistair McGowan and Charlotte Page in:
Sincerely Noel
Presented by Clive Conway Celebrity Productions
Join celebrated actor and impressionist Alistair McGowan and musical actress Charlotte Page for an evening of entertainment as they bring the songs, poems and prose of Noel Coward to the Harrogate Theatre stage.  Alistair McGowan is best known for his BBC TV show The Big Impression and has also appeared on stage in the West End, receiving an Olivier Award nomination for his role of the Dentist in the 2004 revival of Little Shop of Horrors.  Charlotte Page has recently been compared to Joyce Greenfall at her best and is known as one of the UK's foremost Gilbert and Sullivan sopranos, having also performed the role of Christine in Andrew Lloyd Webber's The Phantom of the Opera.
Tuesday 14 February, 7.30pm, Harrogate Theatre Main Auditorium
Big Howard Little Howard in:
Little Howard's Big Show
The nation's favourite human-cartoon double act Big Howard Little Howard return to the stage with their brand new comedy spectacular. With 3 smash hit series of their acclaimed BBC1 show Little Howard's Big Question and a Perrier Award nomination, this brand new show features songs, sketches, magic, a cheeky pigeon from Barnsley, a brand new invisible character, The Royal Monkey Philharmonic Orchestra, a large frying pan and more laughs than should be possible.
Saturday 25 February, 2.30pm, Harrogate Theatre Main Auditorium
Recommended:       Ages 3+