THERE are 773 reasons to thank a Ripon charity as it marks a key milestone in its development.
For that is how many people have been supported by The Carers' Resource since it opened its doors at Community House, Allhallowgate, five years ago.
And it celebrated its birthday by taking a group of carers and volunteers to a pre-Christmas shopping trip to the Boundary Mill complex at Colne.
The charity has grown year-on-year since launching in Ripon – linking into the award-winning charity's other bases in Harrogate, Skipton and Bradford, as well as with like-minded organisations which are also located in Community House.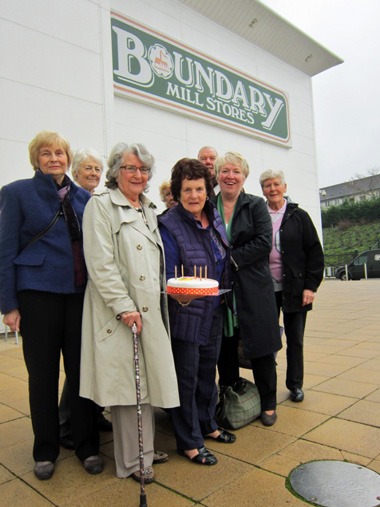 Celebrating….carers, volunteers and staff from the Ripon charity mark its 5th anniversary  
It reaches into communities across Ripon and beyond, helping people who care for loved ones as far away as Pateley Bridge, Boroughbridge and surrounding villages.
Its team supports the district's growing number of unpaid carers in a variety of ways – including information and advice about completing attendance allowance and Disability Living Allowance forms.
It has also been playing a role in the charity's "Eat or Heat" campaign, which aims to raise awareness of the plight faced by many carers in the grip of fuel poverty caused by spiralling energy bills. Most carers have lower-than-average incomes, but higher fuel bills because of the nature of their role.
One of the charity's most popular initiatives is the way it brings carers together – it stages a friendship tea on the second Tuesday of each month where carers can come and talk in friendly surroundings.