A charity champion from Harrogate has helped Yorkshire Bank and its employees raise an incredible £2million for charity partner Help the Hospices, the leading charity supporting hospice care throughout the UK.
For four years, Help the Hospices has been the official charity partner of Clydesdale and Yorkshire Banks, and this week thanks to employee fundraising has raised £2million. Martin Ibbetson from Harrogate is one employee who has gone the extra mile to help reach the fundraising milestone.
Having already walked nearly 140 miles for the charity, earlier this year, assistant regional director at Yorkshire Bank, Martin Ibbetson, tackled a 40 mile, four day trek through the Peruvian Andes to the legendary lost city of the Incas, Machu Picchu, in order to help reach the fundraising milestone.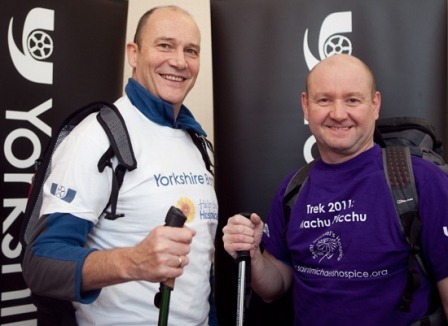 Martin Ibbetson and Gary Booth
As part of a 20-strong team, Martin and five colleagues including Rick Warburton, Graham Watson, Gary Booth, Mark Leigh and Mike Darlow from Yorkshire Bank took in spectacular views and glimpsed the Peruvian way of life as they walked eight hours a day to raise nearly £19,000 for the charity.
Clydesdale and Yorkshire Banks launched the partnership in 2008 to support more than 110 hospices across the country, including Saint Michael's Hospice in Harrogate. The bank's Charitable Foundation which has matched all money raised, pound for pound, enabled the team of six fundraisers to make the substantial donation of nearly £40,000, of which more than £30,000 will go to Saint Michael's Hospice.
Prior to the challenge the intrepid trekkers spent two vital days acclimatising to the altitude by taking part in a community event, where they were able to learn more about the Andean people and the way they live.
Martin explains:
Before the trek we spent two days helping build a classroom for a local infant school, digging foundations and laying cement by hand. It was a great way to acclimatise to the 4600m altitude and find out more about the community and how important the work of volunteers is.

The trek itself was difficult, breath-taking and life-changing at the same time. I love walking and have also tackled the Great Wall of China, Yorkshire Three Peaks Challenge, Lyke Wake Walk and two Midnight Walks to help raise funds for this worthwhile cause. Before match funding, we have raised over £50,000 to date for the Help the Hospices partnership.

Trekking to Machu Picchu with my colleagues was amazing, as we all supported and encouraged each other along the way. We all know of somebody who's benefited from hospice care and are therefore aware of the invaluable services hospices provide. Of course, we found this very inspirational and it made our challenge a little easier. To have reached the £2 million milestone is a huge achievement and I am delighted to have been involved and see the money raised go to such a worthy cause.
Jacqui Atkinson, community affairs manager at Clydesdale and Yorkshire Bank said:
We are delighted to reach the milestone £2million, which not only exceeded our expectations but was reached months ahead of target.

We are very proud to be partners with Help the Hospices and this is a wonderful example of how an organisation can make a real difference by ensuring that a charity partnership is integrated into its community investment initiatives. Not only have employees like Martin pulled out all the stops to raise this incredible amount, but they regularly share their time and expertise with their local hospice.
An average of £1,429 is raised each day by Clydesdale and Yorkshire Bank's employees which will help fund nearly 100,000 hours of nursing care in patients own homes.