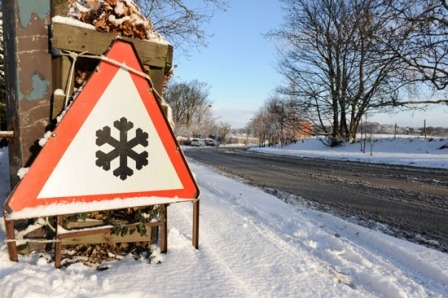 West Yorkshire Fire and Rescue Service is joining forces with local authorities to urge motorists to take extra care behind the wheel this winter.
With the big freeze predicted to take hold soon, the emergency services across the county are braced for an influx of road traffic collisions caused by the bad weather.
Between November 2010 and February 2011 there were 23 fatalities in West Yorkshire and 249 serious injuries*. These are tragedies the authorities want to avoid again this year.
West Yorkshire Assistant Chief Fire Officer Craig McIntosh, Director of Road Safety, said:
Sadly many of these crashes could have been avoided if motorists had planned ahead and driven to the difficult road conditions. Firefighters see first-hand the devastation caused by RTCs, which is why we are urging drivers to be extra cautious.
Sue Snoddy, who is the chair of the Safer Roads Delivery Group – a group of road safety professionals made up from West Yorkshire's five councils and emergency services said:
If the weather is severe, we would always encourage motorists not to travel. If your journey is necessary, make sure you and your vehicle are prepared and that you drive at a speed appropriate for the road and weather conditions.
You can visit www.saferlife.co.uk/celebrate-safer/road-safety for extensive road safety advice. The advice includes:
Wintry conditions can make driving hazardous, so SLOW DOWN
Stopping distances may be affected during the winter months due to poor visibility and road conditions, so CHECK YOUR DISTANCE
When driving in snow, reduce your speed to gain enhanced control over the vehicle. Set off gently in second gear, avoiding high revs. Slow down before you descent a hill
If you skid, take your foot of the pedals and steer to regain control. Only use the brake if you can't steer out of trouble.
If you get stuck in snow and ice, don't keep trying to move if the wheels spin because this will only dig you deeper. Turn your wheels from side to side a few times to push the snow out of the way
Check your tyres for condition, pressure and tread depth. The recommended depth for winter motoring is 3mm
Dazzle from low sunlight during winter months can be hazardous. Cleaning the windscreen inside and out can significantly improve vision and reduce the dazzling effect
Ensure all your windows and mirrors are free from snow
Ensure snow from your roof is cleared, as piled up snow can fall onto the windscreen and obscure your view when you brake
Use your headlights when visibility is poor
Keep your antifreeze screen wash topped up with the correct liquid concentration. This will ensure visibility is maintained during winter months
A simple survival kit in the boot may be an advantage, should you be stranded in the bad weather. An ice scraper, de-icer, torch, first aid kit and blankets can all be critical.