A UK insulation company has raised over £11,000 for the Barnardo's charity after taking part in competitive fundraising initiative, the Store Wars challenge. Representatives from the northern network of Minster Insulation & Dry lining occupied the Beulah Street charity shop on Wednesday 7th December, putting their sales, marketing and creative skills to the test with the aim of raising as much money as possible for deserving children in the UK. The team raised £6,000 in Harrogate and their southern counterparts in Bristol contributed a further £5,000 creating a grand total of £11,000.
14 companies competed in the Store Wars Challenge, occupying different Barnardo's shops across the country. After weeks of competitive banter between the businesses, all of whom are part of the Saint Gobain group, the team at Minster Insulation & Dry Lining were determined to place highly in the fundraising rankings. True to their word, Minster Insulation & Dry Lining came second overall in the competition which raised an incredible £52,000 collectively for the Children's charity.
Paul Heron, David Morrison, Mark Stringer, Thabo Motlhathudi, Mark-Swann-(Storm-Trooper), Willie-Main
To achieve optimum sales, footfall and local impact, Minster filled the Harrogate store with bargains, dressed up as Star Wars characters and employed entertainers to provide live music performances and famous football freestyler, Danny McGhee. The tombola prize giveaway was a fantastic success as Harrogate shoppers tried their luck to win an array of valuable prizes. Amongst stock donated by friends and family of the Minster Insulation & Dry Lining team were designer items, such as a pair of Prada shoes that were soon snapped up by an enthusiastic bargain hunter.
Before the event, the Northern Minster team set an optimistic target of £5,000 for the day, but their hard work and fundraising efforts meant they reached an incredible £6,000. Bringing their competitive business minds from the board room to Beulah Street, Paul Heron, Dave Morrison, Andy Warrener, Thabo Motlhatudi, Mark Beeton, Mark Sqann, Marilyn Brooks, Steve Jackson and Wayne Markillie drew in the crowds who generously gave to the worthy cause.
Managing Director of Minster Insulation & Dry Lining, Peter Stringer commented:
We are absolutely thrilled to have contributed £11,000 to the grand total of £52,000 that has been raised for Barnardo's, our 2011/12 charity partner. Thanks to their excellent sales, marketing and creative skills, the teams surpassed their target and made a huge difference to hundreds of children in the UK. Thank you to everyone who donated on the day, staff at Barnardo's in Harrogate and to everyone who took part in the Store Wars Challenge, I am extremely proud.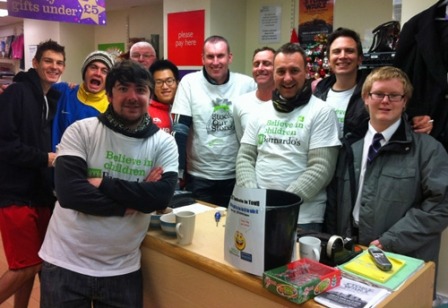 Barnardos staff, Freestyle footballers and Minster employees celebrate a great days takings