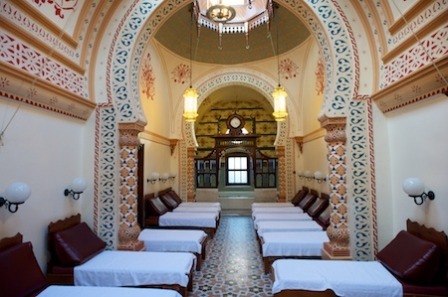 A senior councillor at Harrogate Borough Council has denied a cover up over the removal of gentlemen only sessions of Harrogate's Turkish Baths.
The council has recently taken the decision to remove the three a week gentlemen only sessions to increase its mixed session provision.
Despite what is being said in the wider press, this decision was taken on commercial grounds because of the low attendance at gentlemen only sessions.
Average attendance at a men only session (Monday to Friday) @17 people
Average attendance at a mixed/ladies only session (Monday to Friday) @34
If 34 people were to attend the three men only sessions, when they are mixed, the additional revenue per year equates to over £35,000 per year.
However, Councillor Caroline Bayliss, Cabinet Member for Cultural Services, said:
The council did consider some incidences of inappropriate behaviour at the baths during these sessions and believes that the repetition of such problems would be unlikely as a consequence of ending the gentlemen only sessions.

Like any business, the council is having to look hard at its income generating facilities which bring benefit to the district. To run sessions that are under-used doesn't make economic sense in these hard financial times. And of course we welcome gentlemen to attend our mixed sessions and we offer some fabulous treatments for men in our spa. The extra mixed sessions will run at exactly the same time as the previous gentlemen only sessions.

As part of the data research I can also tell you that this year we have had 75 gentlemen use the 'Time for Gentlemen' package – 38 sold in conjunction with mixed Turkish Baths sessions, in comparison to just three sold on gentlemen only sessions. The reminder came in for the treatment with no Turkish Baths session.

It is not just the visits to the Turkish Baths that can also affect the bottom line, the number of treatments taken complementing a visit to the baths are also a factor.