Holly and ivy growing in the grounds of a leading North Yorkshire prep school were put to good use by pupils – and helped raise almost £300 for Harrogate-based charity Horticap.
Pupils at Belmont Grosvenor School, based at Swarcliffe Hall, Birstwith, near Harrogate, collected winter foliage from the school's 20 acres of grounds to turn into Christmas wreaths.
Working alongside students from Bluecoat Wood Nurseries, youngsters helped make 26 festive wreaths which were then sold at Belmont Grosvenor School's Christmas Fair.
Members of Belmont Grosvenor School's PTA have chosen to raise money for Horticap, which provides adults with learning difficulties training in horticulture, allied crafts and rural skills, throughout the academic year.
The wreath-making event, which included children from Year 3 and a number of Horticap students, raised £260 for the charity, which recently celebrated its 25th birthday in 2009.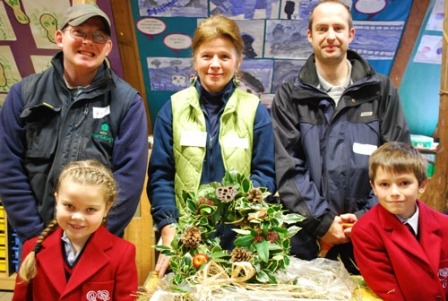 Dawn Jennings, Vice Chair of Belmont Grosvenor School's PTA, said:
All the children thoroughly enjoyed taking part in the wreath making and learning this new skill. The completed wreaths looked fantastic.

Horticap is the PTA's chosen charity for the year and we hope we can participate in more joint projects such as this one. The wreath making will, hopefully, be the first of many activities which the Horticap students and Belmont Grosvenor pupils will be involved in.
Phil Airey, Horticap's Assistant Manager, said:
The students had a great time helping the pupils and the finished wreaths were of a very high standard. We are delighted that the PTA has chosen to raise money for Horticap and we look forward to taking part in other activities next year.
Belmont Grosvenor School, along with its Magic Tree Nursery, caters for children from three months to 11 years.