Alzheimer's Society held a unique event in Harrogate on Thursday, 24 November to raise awareness of the National Dementia Declaration which calls on families, communities and organisations to improve the way in which society responds to dementia.
Organised in conjunction with Carefound, a provider of home care services to the elderly in North Yorkshire, and supported by Appleton's of Ripon and Ellis Bates Group, the evening had a huge impact on those who attended from local businesses including Marks & Spencer, Sainsbury's, Barclays, Newby Hall and North Yorkshire Police.
Speakers talked about the difficulties people with dementia face carrying out every day tasks like visiting the supermarket or bank and what the companies present could do in their own premises to help them manage these tasks in a comfortable and friendly way.
Alzheimer's Society will now help those organisations that attended sign the National Dementia Declaration and build dementia awareness amongst their staff. Attendees from health and social care were able to support the event by sharing their own ideas and expertise with these organisations.
There are over 750,000 people living with dementia in the UK today and by 2025 there are expected to be over 1 million. Dementia is an incurable condition caused by diseases of the brain which over time seriously impairs the ability of someone to live independently.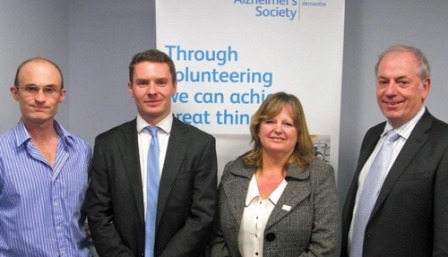 Anthony Sterne (Appletons), Oliver Stirk (Carefound), Jill Quinn (Alzheimer's Society), Peter Bates (Ellis Bates Group)
Although public awareness of dementia is now high, understanding of it remains very poor and few people appreciate what help is available to live well with dementia.
The National Dementia Declaration was issued by the Dementia Action Alliance earlier this year asking for public and political commitment to respond more effectively to dementia. The Declaration has been created by people with dementia, carers and a number of organisations who want to change the experience of living with dementia in England for good.
Alzheimer's Society, Services Support Manager, Jill Quinn, commented:
There is no doubt that dementia is being taken more seriously now and that awareness is growing, but we still have a long way to go before communities become dementia friendly and stigma is reduced.

No one person or organisation can do enough on their own to change things. Partnership working and community involvement must be the way forward.

Our aim is that one day dementia will be free of stigma and that whole communities will work together to ensure that people with dementia will live longer and happier lives in their own homes, while their carers feel supported and empowered to carry out their role.

Once a person can feel able to comfortably tell people that they have dementia, doors will open and support will be more readily available.

This event has shown that there is support out in our communities and that we can work together to achieve that ambition.
Director of Carefound, Oliver Stirk, said:
We are delighted to support Alzheimer's Society in helping raise awareness of dementia amongst the local business community. At Carefound, we help elderly people continue to live independently in the comfort of their own homes and we therefore see the growing need for dementia awareness every day. We believe that a huge amount can be achieved as the community's understanding of dementia improves and fully support the National Dementia Declaration.
Appleton's of Ripon has also demonstrated strong support for the Declaration and, in addition to providing a range of its well-known pies for the event, is one of the first local businesses to sign up.
Owner of Appleton's, Anthony Sterne, said:
We have been overwhelmed by the way in which our staff have embraced the Declaration and by taking some very simple steps, such as providing a quiet area in the shop where staff can take the time to offer dementia friendly service, Appleton's has been able to make significant improvements to the level of service our customers receive.
In addition to Alzheimer's Society, key speakers at the event included North Yorkshire County Councillor, Tony Hall and Deputy Mayor of Harrogate, Councillor Pat Jones, who closed by saying that she was moved to see local businesses and service providers coming together in such a forward thinking and innovative way, to explore the concept of Dementia Friendly Communities.