Biochemistry graduate Emma Hesketh (pictured) is hoping her research into the causes of cancer will make a difference to people's lives.
The 23-year-old is pursuing a career in the critical field of cancer research – thanks to the help of a North Yorkshire prep school.
Members of the PTA at Belmont Grosvenor School, an independent co-educational prep school based at Swarcliffe Hall, Birstwith, near Harrogate, raised a staggering £17,300 at an Enchanted Ball held in the school's 20-acres of grounds this summer.
Money raised from the event was divided between the school's PTA and Yorkshire Cancer Research – with a cheque for £8,660 handed over to the cancer charity.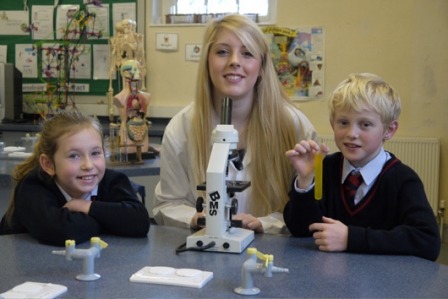 That cash has enabled science student Emma to start her three-year PhD course at the University of York – she is one of five promising young science students in Yorkshire to benefit from Yorkshire Cancer Research's PhD Studentship scheme this academic year.
The scheme supports postgraduates pursuing a career in the field of cancer research – an area of study which is currently underfunded, forcing young talent to follow alternative career paths.
When members of Belmont Grosvenor School's PTA heard about the Yorkshire Cancer Research scheme, they knew they wanted to help part-fund Emma's research.
And this week Emma dropped into Belmont Grosvenor School to talk to pupils and staff about the research she is carrying out, thanks in part to their financial support.
Julia King, former Chair of the PTA, said:
The PTA committee was delighted to support such a worthwhile charity this year.

Everyone worked tirelessly to raise this magnificent sum. We are thrilled to be able to support Emma in her studies to understand more about cancer, and we hope that she will go on to inspire a few budding scientists through her visit.

We are pleased the children will get the opportunity to meet Emma and sincere thanks are extended to everyone who contributed to the success of the Belmont Grosvenor Enchanted Ball.
During her three-year course at the University of York, Emma will look at the way genes are copied before cells divide to produce new cells, so that treatments can be developed to block this process from happening in cancer cells.
Emma said:
I've loved science from the moment I stepped foot into the lab. Following my degree in biochemistry I decided I wanted to do something beneficial with everything I had learned.

Many people suffer from cancer and I really wanted to make a difference. The research we are already doing is so interesting and we are so close to making breakthroughs – I really wanted to get more involved and help push it that little bit further.

I think Belmont Grosvenor School has done a fantastic job in raising so much money and I'm very happy to be able to talk to the children about my research.

I think it's really important to make children aware of science and get them excited about the opportunities they could have in the future.
Belmont Grosvenor School is set in 20 acres of grounds on the edge of the Yorkshire Dales. Together with its Magic Tree Nursery, the school caters for children from the age of three months to 11 years.