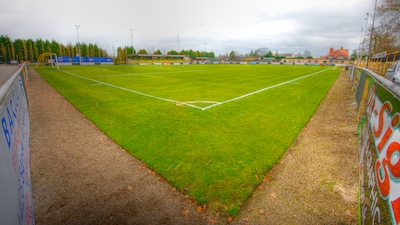 An excellent performance by Harrogate Town saw them overcome Worcester in the F A Trophy.
Early home pressure resulted in skipper Kevin O'Conner shooting over and Laurie Wilson heading off the line, as Town were pushed back.
The deciding goal came as early as the 17th minute.Craig Radcliffe's inswinging corner caused havoc in the home defence and Paul Brayson was credited with the vital touch in the ensuing melee.
Town strove to increase their lead with Stephen Turnbull and Jonny Allan combining to release Lee Elam, but his fine run was ended with a last ditch tackle.
Brayson's pull back across the six yard box found no takers and Wilson headed Elam's long centre wide from an acute angle.
Worcester,led by the impressive striker Mike Symons, hit back with both O'Conner and Rob Elvins shooting wide from long range. Town then had Mark Cook to thank for their interval lead,as Edwards set up Carey-Bertram and his shot produced a diving save from the keeper to concede a corner.
Five minutes after the break,Town produced the move of the match.Radcliffe broke from defence, found Brayson,who in turn squared to Elam, but his chip over the advancing James Dormand bounced off the crossbar.
Cook was soon in action again again as O'Connor forced him into a fingertip save, while Jacob Rowe shot wide from close range.
With fifteen minutes left Town had two chances to make the game safe.
Firstly,Matt Bloomer blazed over from close range after the home defence only half cleared Elam's cross,then two minutes later Brayson rattled the crossbar with a free kick after Elam had been fouled on the edge of the box.
Worcester threw on all three subs and goalie Dormand twice made foray's into the Harrogate penalty area as they sought an equaliser,but the Town defence led by the indefatigable captain Jake Picton,held firm.
However,it took a point blank save in the fifth minute of added time by Cook to ensure that Town go into Monday's draw.
Harrogate Town 1 Cook 2 Darville 3 Radcliffe 4 Bloomer 5 Ashworth 6 Picton (c) 7 Wilson 8 Turnbull 9 Brayson(Bore 87) 10 Allan (Meechan64) 11 Elam
Subs not used 16 Heckingbottom 17 Emmett Booked Turnbull
Scorer Brayson 17 minutes.
Att 676