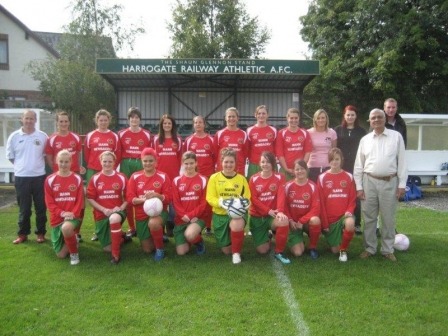 Harrogate Railway Ladies were given a taste of defeat today as Bradford Park beat them 4-3.
It was the first loss for Railway this season and in fairness to Bradford the better team won, Bradford opened the scoring after only 6 minutes with the softest goal ever, the defence stumbling and the railway keeper dropping the ball over the line was not a good start. After this Railway managed to get some composure and on the 12 min Elle Mcloud slotted the ball through for Hannah Campbell to put the ball past the Bradford keeper 1-1.
It was a scrappy affair for railway throughout the game, Bradford went ahead on the 30th minute with a well taken shot and 3 mins later, Hannah, again equalized 2-2. Bradford maintained their pressure and dominance which paid off on the 40th minute 3-2 and half time.
The second half did not go well for railway missing numerous chances, hit the post, cleared of the line and the ball just going wide, whilst railway pressed, so Bradford broke out and caused much trouble for the railway defence eventually bagging their 4th on the hour mark 4-2.
With 15 minutes to go Railway put the Bradford defence to the test and mange to break through, feeding from the right, Hannah ( player of the match) latched on and drove the ball hard into the corner 4-3. Railway could not however find the equalizer and came away 3 points down.
Railway need to up there game for next week as a return to Bradford beckons for the League Cup.