One of Yorkshire's best known watercolourists, Les Packham, has presented one of his original works to the organisers of the annual agricultural showcase, the Great Yorkshire Show.
Entitled "A Yorkshire Farmstead," the painting encapsulates rural life and will hang in the award winning Regional Agricultural Centre at Harrogate where the Yorkshire Agricultural Society's offices are based.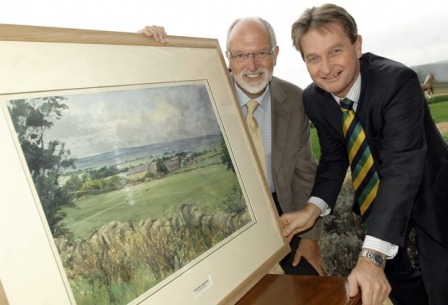 Artist Les Packham (left) with Nigel Pulling, Chief Executive of the Yorkshire Agricultural Society with the painting – "A Yorkshire Farmstead."
As the co-ordinator of the Art Show at the Great Yorkshire Show, and also an exhibitor, Mr Packham has had a long association with the Society. He said: "I am delighted to present this painting in appreciation of the support given by the Society to Yorkshire artists through the Art Show over the past seven years. The event provides a superb platform for both established and up and coming artists and is a hugely popular feature of what is England's premier agricultural show."
Accepting the watercolour, Nigel Pulling, Chief Executive commented:
This is a super painting and fits in both with our ethos as a supporter of Yorkshire farming, and with our new building which has won numerous awards for its environmentally friendly features, not least for the sheeps' wool which is used as our insulation.
Les, whose home is in Wakefield, regularly demonstrates his painting techniques to a variety of art societies, and exhibits his work in Yorkshire galleries including his own at Aberford near Leeds.