Harrogate, England, 16 November 2011 – Harrogate Ladies' College recently hosted a season of interactive mini-musical master classes, held by leading Yorkshire figures in the classical music industry.
Over the course of three days, acclaimed concert organist, Professor Graham Barber, outstanding vocalist Lynne Dawson, who performed a solo at Princess Diana's funeral and Opera North Orchestra leader, David Greed, shared their musical knowledge with HLC's budding musicians to help to develop their techniques and performances.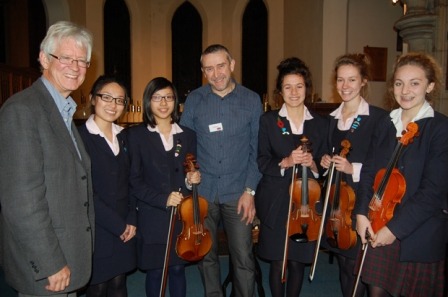 Professor Graham Barber, Maple Lau, Adelaide Ho, David Greed, Saroj Spickett, Alice Barber and Georgi Passerello
Under the expert guidance of Lynne Dawson, the girls improved their technique, facial expressions and stage presentation during the vocal master class. Lynne's lively approach encouraged the girls to think carefully about the meaning of lyrics, as well as entertaining a large audience of pupils, parents and staff.
Lynne was delighted with the girls' performances and hopes that her advice will benefit them in the future, she said: "It is important for singers to work with a variety of different people as the music profession requires you to think and react very quickly."
The next class was held by Leeds University's current Professor of Performance Studies, Graham Barber, who guided the girls through all areas of keyboard technique by appraising and improving each solo performance. Touching on team work, Professor Barber trained the girls in the art of accompaniment and the importance of listening, supporting and maintaining communication when playing with fellow musicians.
David Greed led Grade 8 string players in the final master class, offering technical advice on the group's solo pieces.  One HLC pupil impressed David with her captivating performance on the Guzheng, an unusual Chinese instrument.
The girls thoroughly enjoyed learning how to perform music professionally. One girl said:
Reading music well is just one part of being a good musician. The master classes taught me that the element of performance also plays an important part, and paying attention to body language and facial expression can greatly improve a performance.
Professor Graham Barber, Maple Lau, Adelaide Ho, David Greed, Saroj Spickett, Alice Barber and Georgi Passerello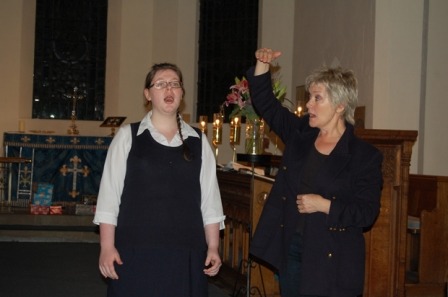 Katy Huntley and Lynne Dawson