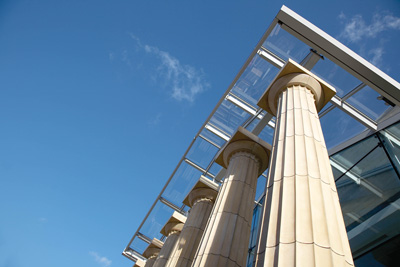 The staff at Harrogate International Centre have been left stunned by a 'triple whammy' management proposal to cut their terms and conditions with almost immediate effect, then outsource services and make further redundancies.
Staff have been given until 18th November to accept the new terms and conditions and the proposals to outsource services and make further redundancies is subject to cabinet approval next week (16th November).
These latest proposals come on the back of the 52 redundancies (over half the workforce) which occurred at the Centre earlier this year.
The proposals to change its operating model are detailed in a report by the Harrogate International Centre (HIC). The report will be going to Harrogate Borough Council, which runs the centre as an arms' length organisation, HIC is seeking to outsource a number of its support services in a bid to reduce operating costs by a further £500,000 per annum.
The report to the council's Cabinet on 16 November 2011 shows that HIC's core business remains strong and sustainable but clearly sets out the need to move away from the current, fixed cost base, in order to provide greater flexibility to manage the constant changes in levels of activity.
The centre already outsources catering, stewarding and car parking. The report sets out proposals to widen the scope of outsourcing to include technical services, security, front of house and cleaning.
The report also emphasises the need for a further reduction in its permanent staffing structure as income declines as a result of the economic downturn.
Angus Houston, Director of Harrogate International Centre, said:
There are two clear objectives. Additional outsourcing will provide a variable cost base with genuine improved service delivery for our clients, whilst the fixed staff reduction will play a vital and necessary part in getting HIC back on a solid commercial footing.

These proposals, aligned with the Royal Hall review and the opening of our new Exhibition Halls, will position HIC in the strongest way possible in what is an increasingly challenging economic market.
UNISON Branch secretary, Dave Houlgate, said:
Last Friday staff were presented with an ultimatum to accept reduced terms and conditions which include a real terms pay cut, changes to working patterns and compulsory holidays forced upon them without any time limited period of protection, something which is established Council procedure.

The proposals will in many cases affect the lowest paid employees at Harrogate Council who have already endured a two year pay freeze and are also seeing their future pension provision unfairly coming under sustained attack.

No sooner had we lodged a dispute over what we consider unreasonable and vague proposals than HIC today announced its intention to outsource many of it's services and make further redundancies.

Understandably staff are on the floor about all these proposals. They are expected to rejuvenate the business but feel completely undervalued and betrayed.

We are still digesting the detail of the outsourcing proposal but we do know that it runs the risk of actually costing more, seeing taxpayers money going in to the pockets of company directors and bringing further uncertainty as many companies struggle because of the economic downturn. And of course some staff will lose their job.

We are told these proposals will save £0.5million a year but we've seen nothing to back up this claim.
Councillor Don Mackenzie, Leader of Harrogate Borough Council and chairman of the HIC Board, said:
The council needs to act quickly and decisively.

Members of the council will be asked to support a fundamental change in the way that HIC operates. We recognise that HIC needs to adapt in order to prosper in what is a challenging and highly competitive market.

The Director has set out his proposals to give the business greater resilience and flexibility in these uncertain times, and to make it better able to profit from the upturn in the market, which will surely come. We will now consider them very carefully.

Above all, we must act to protect the interests of our taxpayers, and to ensure that we continue to avoid cuts to the services, which we deliver to our residents.