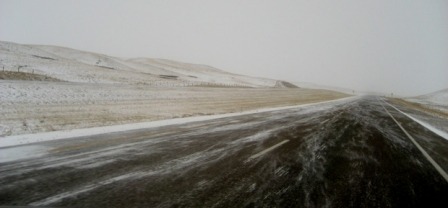 North Yorkshire County Council has 55,000 tonnes of salt stockpiled throughout the county and its salt barns are full in readiness for winter.
North Yorkshire's main priority during extreme weather is to keep major routes treated and passable, followed by other important routes.
With a £6.2 million budget It treats well over half of the county's 5,600 miles (9,000km) of road on a routine basis. This far exceeds national guidelines.
Last year the county council invested in renewing seven trailer gritters and 28 new snowploughs to ensure snowplough contractors have the right equipment when they need it. The county has a fleet of 93 gritters, five snowblowers and can call on the services of 120 snowplough contractors when conditions become severe.
The county council is also working with local communities to help clear footpaths to supplement its service during extreme weather.
The Council's website now provides more detailed information about gritting operations, why the highways service does what it does, how salt works, gritting route maps and new leaflets plus images and real-time weather information from its weather stations.
Road treatments Police
In widespread freezing and wet conditions roads will be treated as resources permit with priority given to priority one routes, and then once treated priority two routes. Generally treatment does not take place between 11.00pm and 5.00am, however specific conditions may require them to do so.
 See the interactive Map of the routes treated – this map shows the entire North Yorkshire region as well as the designated Priority one and two routes in Harrogate, Knaresborough and Ripon.
Priority One Routes – Include the major traffic routes which connect or pass through towns and other major centres of population.  2300km (28% of road network) Routes should be treated by 7.00am subject to changes in the forecast.
Priority Two Routes – Generally provide access to local communities 2100km (26 % of road network). Gritters will move on to priority two routes when priority one routes have been gritted. We aim to treat by 10.00am.
Priority Three Routes – Include roads in housing estates and country lanes. 4500km (46% of road network) will not normally receive treatment unless we know freezing conditions are likely to persist for more than 72 hours.
Pavements – During periods of prolonged heavy snowfall pavements are treated only after the main carriageway routes have been cleared.
Please see the NYCC website for further information