The London 2012 Organising Committee has announced that Harrogate and Knaresborough are among the 78 communities in Yorkshire and the Humber on the Olympic torch route. The torch will make its way through the towns on 19 June 2012 on its way to the Opening Ceremony of the Olympics.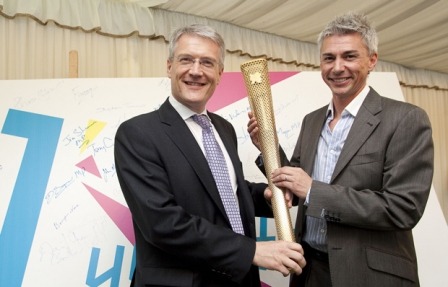 Commenting on the announcement, Harrogate and Knaresborough MP, Andrew Jones, said:
This is the first time the United Kingdom has hosted the Olympic Games since 1948 and it is great that the Olympic torch – part of the essence of the Games – is coming to Harrogate & Knaresborough.

I know that local people have been nominated to be torchbearers and I am sure we would all be very proud to see them carry the torch through their hometowns.

This is a great opportunity for schools to get children even more involved in sport and to educate them about the history and meaning of the Olympics.
Mr Jones is encouraging local schools and groups to get involved as the torch winds its way through our area.
Mr Jones has already toured the London Olympic site to view progress of the construction of the new facilities and was given the opportunity to meet former Olympic Gold medal triple jumper – Jonathan Edwards – and the Olympic torch too.