A month-long charity fundraiser that has gripped the Harrogate District reached its thrilling climax this week.
The You're Inspired charity challenge saw teams from local businesses and groups of savvy friends bring their entrepreneurial 'A' game to the table in a bid to raise money for Saint Michael's throughout October.
It was revealed at an awards evening at the Crown Hotel in Harrogate on Wednesday November 2 that the teams had helped to raise a whopping £28,012.12 for the charity that works to improve the lives of 2,400 local people living with terminal illness and bereavement each year.
The teams from local firms Foundation Group (Ripon), the Broker Network, (Knaresborough), Leeds Business 4 Breakfast, Ellis Bates, Vida Media (both Harrogate) and friends 'The Square Chair' presented their work to a panel featuring Saint Michael's chief executive Tony Collins, David Turner, group marketing director from event sponsors Unit 4 Business Software, and Leon Doyle, star of BBC1's The Apprentice.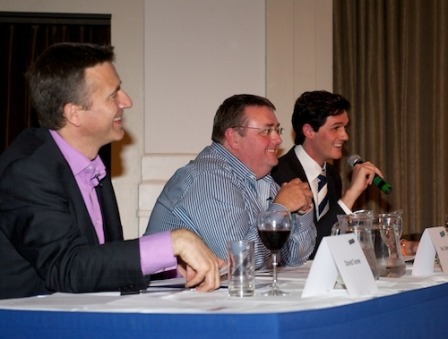 David Turner, group marketing director from event sponsors Unit 4 Business Software, Saint Michael's chief executive Tony Collins, , and Leon Doyle, star of BBC1's The Apprentice
Leon said:
Hearing about the kinds of things the teams have been doing to raise money for Saint Michael's is truly inspirational.

The creativity on display, along with the dedication to the cause, really is something to behold.

It goes to show the high regard in which Saint Michael's is held and I'm glad to have been part of it.
Fundraisers varied from living in an empty shop unit, a Harrogate treasure hunt and selling homemade soup, to recreating famous photos for a calendar, producing inspirational DVDs and rocking out to a famous Pink Floyd gig.
The team from Harrogate marketing firm Vida Media were crowned You're Inspired Charity Challenge Winners. Company directors Ben Davies and Jason Odle spent an entire week living inside a Parliament Street shop front as live mannequins in Harrogate town centre.
The 'Mannequin Challenge' raised almost £15,000 for Saint Michael's as members of the public responded in their droves to the campaign, sponsoring their various activities and buying them virtual drinks via text message.
Ben Davis (pictured right with the cup) said:
It has been completely unexpected. All we did was sit in a shop window!

It was the public who raised the money. We're glad our 'You're Inspired' challenge captured the imagination so well but the biggest congratulations should go to the public for their overwhelming support.

People were coming from Harrogate, Ripon, Knaresborough, even Whitley

Bay and Newcastle to visit us and donate so it has really shown just how incredibly passionate people are about Saint Michael's and quite rightly so.

We're delighted to receive this award and we can't wait to participate again next year and raise more money for a wonderful local charity.
The judges also presented an Innovation Award to Leigh Naylor from Foundation Resourcing, in Ripon. Leigh and her team recreated a series of famous photos, including Bobby Moore lifting the Jules Rimet trophy in 1966 and the 'cheeky' tennis poster from 1975. It helped raise more than £6,000.
She said:
It was so much fun taking part in You're Inspired and we are absolutely thrilled with the outcome.

We raised more than we initially thought we would so a big thank you goes to everyone who supported us.

We hope we played a part in putting the spotlight on the work of Saint Michael's and we had a fantastic time in the process.
Ben Davis from Vida Media also picked up an Innovation Award.
The awards evening was attended by friends and families of the teams as well as guests from local businesses and community groups.
Team VIDA: Jason Odle, Nicola Procter, Kieran Brown, Victoria Taylor, Lizzie Donnelly and Ben Davis
Saint Michael's chief executive, Tony Collins, said:
You're Inspired is a wonderful event for local businesses and entrepreneurs to get involved in as it seems to bring out some of the most creative and innovative ideas.

Congratulations to our teams who have performed so exceptionally and a huge thank you to everyone who supported their endeavours.

The impact of these efforts will be felt by the people who use and rely on the services of Saint Michael's.
The teams, which were made up of a maximum of six members, were given a £100 loan to grow into funds for Saint Michael's by any legal and ethical means.
It costs £3.9m for Saint Michael's to maintain its current level of services each year and more than 80 per cent of this figure comes from gifts from people in their wills, general donations, and events like You're Inspired.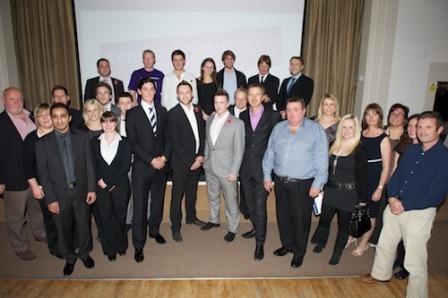 The Judges and all the teams that took part