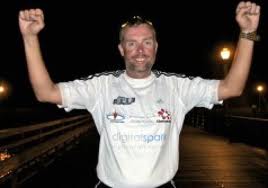 The British man who made national headlines after running 3,100 miles across the United States for charity earlier this year will be Rossett School's guest of honour at their annual prize-giving ceremony on November 17 in Harrogate.
The epic trip, dubbed 'Run Geordie Run', saw Mark Allison of Co Durham average a hundred miles a day on his route from California to New York City. He covered 13 states, including passing through the Rocky Mountains and Mojave Desert, and ran in extreme conditions including snow and heat.
He completed his quest in August and has so far raised over £50,000 or The Children's Foundation and St Benedict's Hospice in
Sunderland.
Rossett School's assistant headteacher, Mr Paul McIntosh, said:
Mark's achievement is such an inspiration – he's just the kind of person we want our students to see as a role model.

Before the run Mark described himself as an 18-stone obese Geordie who loved bacon sandwiches, football and pies – so it just shows what you can do when you put your mind to it.

I contacted him through Twitter and was delighted when he agreed to be our guest.