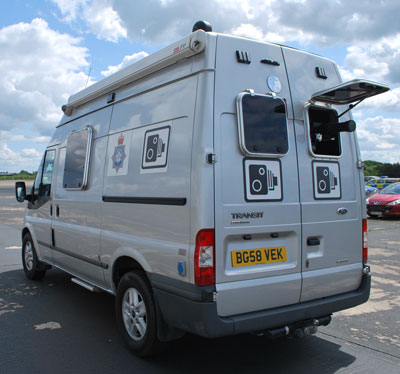 Police encouraged by reduction in high-speed offences
North Yorkshire Police's mobile safety camera pilot has recorded 4,742 speeding offences during the first three months of operation.
The six-month pilot was launched on 1 July 2011, with the intention of improving road safety across North Yorkshire and the City of York.
Of the 4,742 drivers caught speeding, 3,897 have been offered speed awareness courses, which means they get the chance to keep their licence free from endorsement, 775 have been issued with conditional fixed penalty notices* and 70 motorists have been summonsed to court.
Figures show that over the three months, offences captured in the high-speed range have fallen from 2% of all violations to 0.7%, and those in mid-speed range have fallen from 21.1% of all violations to 10.6%.
The high-speed threshold is where drivers are summonsed straight to court for offences where they have driven at more than 26mph over the limit or 20mph over the limit in a 30 zone. A fixed penalty is offered for mid-range offences which fall bewteen the high threshold and the speed awareness course threshold.
Inspector Dave Brown, Head of Strategic Roads Policing at North Yorkshire Police, he said:
At this stage it's too early to say what impact the pilot is having on casualty reduction or overall driver behaviour and more detailed analysis will be carried out towards the end of the pilot. However, we are encouraged by the reduction in high-end and mid-range offences and hope this trend continues.

In the short time we've been using the van, it's provided a valuable extra tool in our roads policing capability and our continuing drive to reduce casualties on our roads. The pilot has been well received by members of the public so far, although probably not by those who have been caught.

We've also seen the first court results come in as extreme speeders have been processed through the courts. I hope these results reinforce the message that speeding won't be tolerated.

The fool-proof way not to get caught by the camera is simple – don't speed.
Independent research carried out by the RAC shows that if all speed cameras were decommissioned you would expect to see 800 more people killed or seriously injured each yea. Going by the current ratio of deaths to injuries on the roads this would equate to about 80 more deaths and 720 more serious injuries.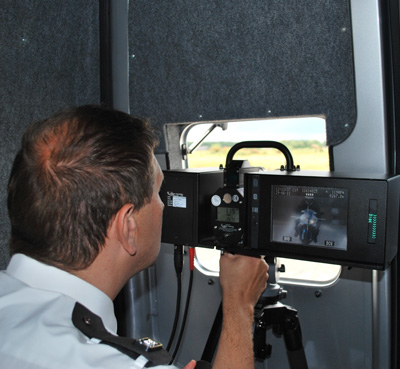 Roads with the highest number of recorded violations
A64 at Tadcaster – 661 offences recorded
A1039 Filey Road, Flixton – 638
A64 Matlon by-pass – 539
Seamer by-pass, Scarborough – 192
A61 Harrogate – 181
A59 Starbeck – 135
Leeming Lane, Catterick – 189
Some notable cases from court
A 20-year-old Whitby man was caught driving a Toyota Celica at 101mph on the A64 near Malton on 5 July. He appeared at Scarborough Magistrates' Court on 3 October and was fined £600, he was disqualified for seven days and ordered to pay costs of £45.
On 24 July, a 55-year-old Hull man was recorded travelling at 94mph on a Kawasaki motorcycle on the A165 near Reighton. He appeared at Scarborough Magistrates' Court on 12 October and was fined £240, disqualified for 14 days and ordered to pay costs of £45.
A Ford Transit van driven by a 57-year-old Scarborough man was captured travelling at 88mph on the A64 near Malton on 22nd July. He appeared at Scarborough Magistrates' Court on 19 October and was fined £265, ordered to pay £45 costs and had his licence endorsed with 6 points.
A 61-year-old man from Wakefield, riding a Suzuki motorcycle was caught at 91mph on the A64 at Seamer on 24 July. He appeared at Scarborough Magistrates' Court on 12 October and was fined £140, disqualified for seven days and ordered to pay costs of £45 .
Speed awareness courses
First-time offenders travelling marginally over the speed limit are offered the chance to attend a Speed Awareness Course. The course, which costs £93 to attend, educates motorists on the importance of driving safely and is proven to have a positive long-term effect on behaviour. It also means your licence is not endorsed with a speeding offence.
The van is deployed on routes across North Yorkshire which meet the following criteria:
Identified routes where collision data shows speeding as a factor in deaths or serious injury.
Routes where motorcycle fatalities or serious injuries are a problem
Routes where speeding has been evidenced as a problem following concerns from the local community.
Facts and figures
Over the past three years (2008, 2009, 2010), 36 people have died on the roads of the county as a result of a collision where speed was a contributory factor.
In percentage terms this equates to 24% of all road deaths in York and North Yorkshire over those three years
During the same period, 299 people sustained serious injury and 1,128 suffered slight injury as a result of a collision where speed was a contributory factor.
The camera technology used within the van can detect the speed of approaching and receding traffic from up to 1,000 metres away and captures 360 degree images of the location. The device is particularly effective at detecting motorcycles and produces high-quality images of vehicles and the riders or drivers.
The road safety charity Brake have given their backing to the pilot, at the time of the launch Julie Townsend, Brake's campaigns director, said:
It's fantastic to see that North Yorkshire Police recognise the importance of speed enforcement in saving lives on our roads.

Safety cameras are proven to act as an effective deterrent to speeding. They are an exceptionally cost effective and efficient way to slow traffic, prevent deaths and serious injuries, and make our roads safer for everyone.

Casualty prevention has to be the bottom line in this debate; safety cameras help save families and communities the appalling devastation of losing a loved one suddenly and violently.
North Yorkshire mobile safety camera routes between 2 November and 8 November 2011
A64 Malton by-pass Malton east and westbound
A64 Seamer by-pass, Scarborough
A64 Seamer Road, Scarborough
A1039 Filey Road at Flixton
Stoney Haggs Road, Scarborough southbound towards Seamer
A629, Low Bradley
A65, Settle By-Pass
A62, westbound, Crosshills
A629, Skipton by-pass
A59, Beamsley Hill
A171 Jugger Howe opposite Springhill Farm
B1460 Castle Road, Whitby
A169 Whitby to Pickering Road near to Goathland
A169 Whitby to Pickering Road at High Horcum
A170 Scarborough to Thirsk Road at Snainton
A171 Mayfield Road, Whitby
B1249 Staxton Wold, Staxton, Scarborough
B1249 Foxholes to county boundary
A1039 Filey Road at Flixton
A165 Reighton by-pass
A64 Malton by-pass Malton east and westbound
A64 between Whitwell Hill and Barton Hill
A64 between Barton-le-Willows and Jinnah
Northfield Farm, Cobcroft lane, Cridling Stubbs
Brayton Lane, Brayton, Selby
Barff Lane, Brayton, Selby
B1257 Newgate Bank, Hawnby
A19 Crathorne
A170 Scawton Moor
Station Road, Thirsk
B6271 Great Langton
B1264 Low Worsall
Guisbrough Road, Great Ayton
B1257 Great Broughton
Northfield Farm, Cobcroft Lane, Cridling Stubbs
Skipwith Road, Escrick
A63 Hemingbrough
Church Lane, Wheldrake
Northallerton Road, Brompton,
Station Road, Thirsk,
B6271, Great Langton,
A61, Carlton Road, Carlton Miniott
A6108, North Stainley
A64 Eastbound carriageway Bowbridge Farm Tadcaster
A64 Westbound Carriageway, Bowbridge Farm, Tadcaster
Millfield Lane, Poppleton, York
Beckfield Lane, York
Green lane, Acomb, York