The human mannequins are set to stay in another week providing their predicted total of £10,000 for Saint Michaels Hospice is matched.
Due to exit the shop window in Harrogate on Sunday evening after 7 days, Jason Odle and Ben Davis have put a challenge back to the public and local business.
Ben said:
We are on target to make £10,000 by this Sunday but we are challenging a local business or individual to match the amount raised by Sunday and we will stay in another week.

We have raised over £6,000 and we are really grateful for all the donations both large and small.

If the amount raised is matched we will gladly stay in another week.
Ben can be emailed on ben@vidamedialtd.com if you would like to take him up on his challenge.
Yesterday David Hirst from Calendar News paid a visit to cover a news story and there was live music during the evening with Annie Drury. Have a look at the video for details.
Video by Cris Matthews
Today (28th Oct) has been another busy day for Ben and Jason with new hair styles being supplied from Baroque Hair and Jeremy Bridgeman Salons.
Lee Marais from Barqoue added:
We are very happy to be supporting them with their challenge and think what they are doing is amazing although it does smell a bit strange in here.
Lunch was provided by the Harrogate meals on wheels service and Nathan Garnham of B-Physical helped them work up an appetite with a special pumpkin workout.
Nathan Garnham said:
I got involved with Ben and Jason about 3 weeks ago and started with a nutrition plan. We have been with them each day and it is just designed to get them up, out of their chairs and doing something.

Today's exercises have pumpkin theme which is something we are carrying through to a free fun exercise class this evening on Crescent Gardens.
This evening sees Singer/guitarist Youcef Preston play in the window followed by the 4- piece band Oceans – it will be cosy. The schedule of activities for the weekend is still being arranged but Saturday will include pumpkin carving and live music.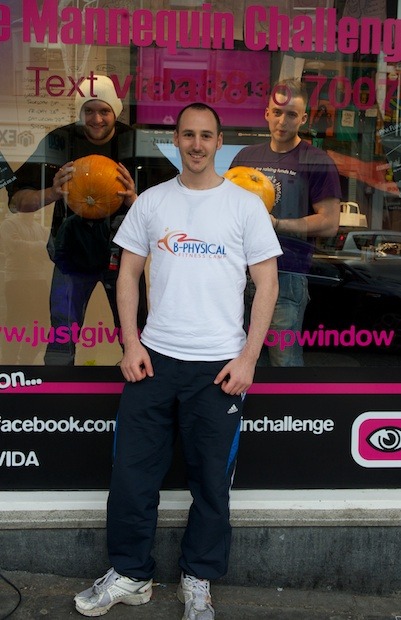 Nathan Garnham of B-Physical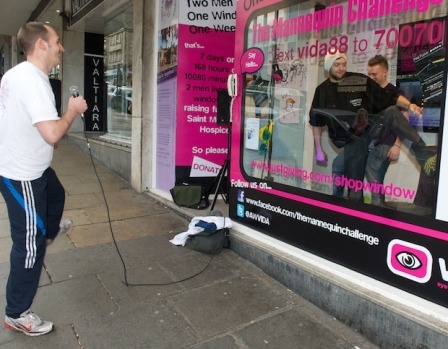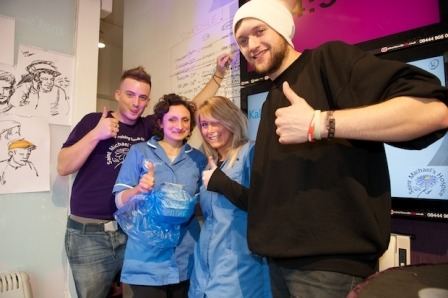 Ben Davis, Maggie Poole, Bex Bradley and Jason Odle – delivery of meals on wheels!
Eating the meals on wheels meal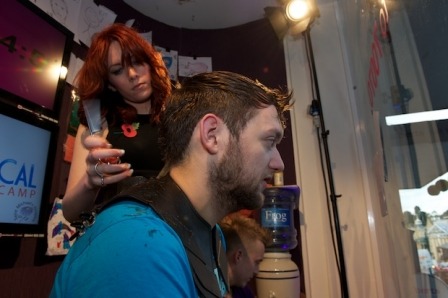 Hair cut for Jason by Lee  Marais from Baroque Hair in Harrogate