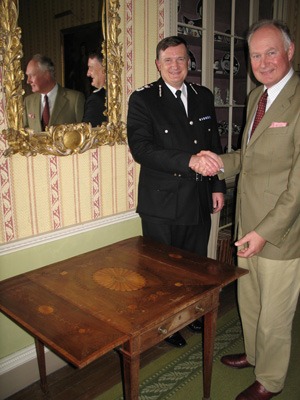 A unique and highly valuable Chippendale table that was stolen from Newby Hall, near Ripon, four years ago has been returned to its rightful owners.
The twin-leaf Pembroke table, which has world-wide importance, was commissioned by estate owner Richard Compton's ancestor William Weddell in 1775.
It was stolen from the stately home in June 2007.
A painstaking investigation was launched by North Yorkshire Police and subsequently taken on by the Yorkshire and Humber Regional Intelligence and Special Operations Units.
This effort culminated in the recovery of the table and 13 other antiques – worth an estimated £5m in total – following raids at two residential properties in South and West Yorkshire last month.
The table was returned to Newby Hall at the beginning of October and is now back in its original place after being cleaned and polished.
Chief Constable Grahame Maxwell was invited to Newby Hall by Mr Compton to view the return of the antique table.
Mr Maxwell said:
It is very pleasing that the substantial amount of police work to track down the Chippendale table and the other stolen antiques has resulted in the safe return of these historically important and valuable items.

This effort has highlighted the strength of specialist policing units working in collaboration in the Yorkshire and Humber region. The sheer tenacity and determination of the teams to locate the items and seek justice on behalf of Mr Compton and the other owners is very commendable indeed.
Mr Compton said:
As a family, we are very relieved and delighted that the table is back in its rightful place. It has been in our family since 1775 and is unique. I simply do not know why anybody would want to steal such a thing as it is unsaleable on the open market.

When a piece like this is stolen from a house that is open to the public, the real loss is a public one, as it has been seen by hundreds of thousands of visitors. Thanks to the work of the police, it will once again be on public display when Newby Hall re-opens after the winter break.
As well as the Chippendale table from Newby Hall, another of the recovered antiques was an embellished bracket clock made by Daniel Delander of London in around 1710. It is believed to be the same clock that was reported as stolen from Sion Hill Hall near Thirsk in February 2009. The remaining antiques are believed to have been stolen from Firle Place in Sussex.
A 68-year-old man from Tankersley, South Yorkshire and a 44-year-old man from Middleton, Leeds, West Yorkshire, have been arrested and bailed in connection with the investigation.