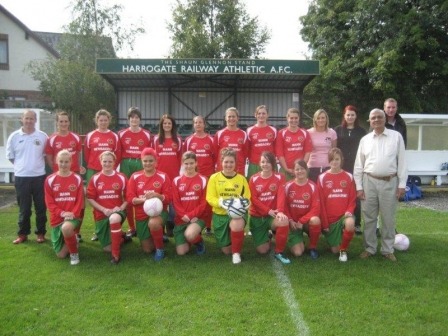 Harrogate Railway Ladies kept up their unbeaten run against Leeds Medics, at station View today with a 7-1 win.
In a game that Railway expected to win, it did not bring out the best in some of the players, however Leeds Medics were well and truly up for a game putting instant pressure on the Railway back 4 and forcing some early saves from stand in keeper Catherine Swine, but after 10 mins Nicola Hadley got control of the ball and played it out to Hannah Campbell who sent a cracking shot into the top off the goal 1-0.
For the next 15mins play went back and forth with the ball mostly in the air! On 27mins Railway won a corner Issy Rowe delivered it in and got a deflection off a Leeds player (own goal) 2-0.
Railway just did not seem to concentrate and 4 mins later Leeds Medics got a well deserved goal, striking from just outside the box 2-1. Yet again play went back and forth with no great intent from either team until Hannah found herself one on one with the Leeds keeper, who had an outstanding game, and managed to play it across the goal into the far side 3-1, half time.
Railway came back on and for 3 mins looking like a team loosing, but slowly they started to get it together as Leeds were not sitting back and again put pressure on Rails defence, this time holding strong, when player off the match Ali Purvis, right back, broke down the touch line and crossed the ball in for Hannah to grab her hat trick on 52 mins 4-1. It then took another long! 30 mins for Railway to show what they can do, When Leah Mercer again delivering a great cross in from the left for Dee Swales to drive the ball into the net from just inside the box, 5-1.
Railway lifted the tempo and on the 86th min Katrina Purvis played the ball through to Nicola Hadley who calmly placed the ball into the top corner 6-1. 3mins later Hannah claimed her 4th goal to make it 7-1.
In short not the most impressive or entertaining game from the Railway ladies but a win is still 3 points.
Next week the ladies face Tingley away in the League cup, a team unbeaten in their own league!