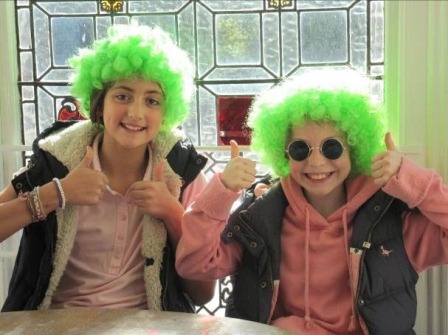 Harrogate, England, 17 October 2011 – Eco-conscious pupils from Harrogate Ladies' College (HLC) have been finding wacky ways to 'go green' in an attempt to raise money for the Yorkshire Dales Millennium Trust.
HLC's Girls Go Green week comprised a variety of fun activities ranging from fancy dress, green themed lessons and even green karaoke.
Committing to the cause, HLC announced a 'No Power Hour,' where pupils and teachers were asked to turn off lights and computers. The eco-friendly fun continued throughout the week with a low carbon footprint lunch and Harvest Service celebrations.
Even HLC's young scientists have been practicing their eco-friendly experiments by making glue out of milk.
Amy Chestnutt, Biology teacher and Eco Club founder says:
I was really happy that the School made such an effort during Girls Go Green week. Taking care of the environment is important and young people should be encouraged to raise awareness of ecological issues. My goal for this year is to make HLC an Eco School.