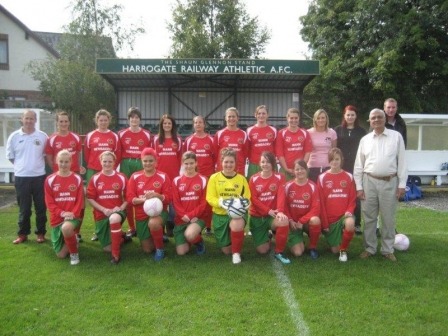 Harrogate Railway Ladies had another stern test today facing Keighley in the county cup but still came out on top with a 3-0 win.
With Keighley determined to make amends for the league defeat against Railway 3 weeks ago it was going to be a hard match and Rails defence felt it from the start, constantly Keighley tried to play the ball over the top for their forwards to run onto but full backs Cathrine Purvis and Sandra Clark were always quick enough to clear the danger.
Both teams made chances to score but not until the 27th minuet did Railways player of the match Jodi Hodgson find a great pass to Hannah Campbell who took the ball into the box and slipped it into the left hand corner 1-0. Keighley came straight back and forced the save off the day from Rails keeper Emma Prest, who on full stretch tipped a low shot just around the post for a corner, Railway defended it well, cleared it quickly out to the right where Nicola Hadley was waiting she ran the line put a great cross in and Ellie Mc Cloud just missed putting the ball over the bar.
At half time the game could go any way, Railway came out looking determined not to loose their unbeaten run, but as the tackles came in hard and fast the referee started putting names in the book, discipline was needed to keep control and Railway had this, on the 62nd minuet left back Emma Lansdall feed out to Leah Mercer on the left who took the ball up past 2 players got a great cross in for Dee Swales to volley in a brilliant goal 2-0.
Keighley were now up against a team full of confidence, Railway were now passing the ball around making spaces and chances, yet again play was switched from the right through Paige Swales out to Leah Mercer who put a lovely weighted pass into Hannah Campbell's run who duly drove the ball into the back of the net 3-0.
The only down side to the game was Railways keeper going off with 10 mins to go with a suspected broken finger.
Next week Railway Ladies face Leeds Medics at home in the league 1.30 KO at station view.