Harrogate Hospital Radio is broadcasting its shows with Royal approval after being awarded a prestigious regional community award.
The station, which was started in 1977, has been presented with The Duke of York's Community Initiative Award for the great work it does within Harrogate District Hospital.
The award – which focuses on encouraging the development of community spirit, individual leadership and initiative in Yorkshire and the Humber – is only awarded to community schemes of outstanding merit as a recognition of excellence.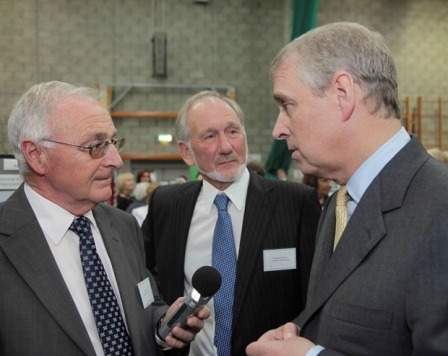 Royal Broadcast! The Duke of York with (from left) Harrogate Hospital radio committee members Bill Caw and Eddie Tatterton
Prince Andrew, who presented the award personally at a ceremony at the Army Foundation College, in Harrogate, said:
Some years ago I visited a housing estate in York, and saw what a real difference could be achieved by the community working together, identifying their own needs, and deciding for themselves the actions needed to find the answers to such needs.

Today the Community Initiative which bears my name is a great success story throughout the whole of Yorkshire.
Mark Bexley, Chairman of Harrogate Hospital Radio, said
We are very proud to be recognised by the Duke of York's Community Initiative for our work. It means a great deal to all our members as it gives us a Royal seal of approval.

Having this accreditation will hopefully open doors for us when we are seeking funding opportunities.
In addition to presenting the award, The Duke spoke with Harrogate Hospital Radio members about the work it does and recorded a message for patients and staff.
Kevin Sharp, Chairman of the Duke of York Community Award scheme, said:
On behalf of myself and the Assessment Panel, I would like to offer our congratulations in what is a great achievement.
Anyone wanting to find out more about the charity broadcaster and the work it does should contact the station on 01423 553342.
The Duke of York with (left) with David Simister, Harrogate Hospital Radio Presenter