A Yorkshire organisation which helps local people and businesses access work in the region's construction sector is celebrating after winning three industry awards.
Construction Yorkshire – an arm of regeneration charity, re'new – picked up the hat-trick of trophies at this year's Yorkshire and Humber Construction Best Practice Awards.
Director Rob Wolfe carried off the Achiever title whilst Project Co-Ordinator Catherine Fay was named as Young Achiever. Construction Yorkshire also scooped the Integration and Collaborative Working award, for the second year running, for its work on the Leeds Arena project with Leeds City Council and BAM Construction.
Construction Yorkshire member, D Croft & Son, were highly commended for the SME (Small and Medium Enterprise) award for developing their processes by providing commitment to the local community in terms of jobs and suppliers.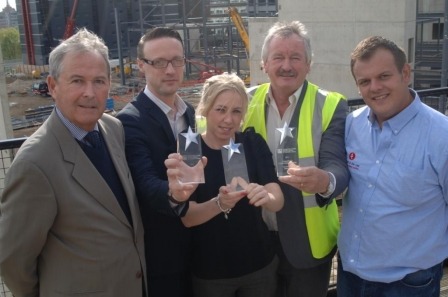 Winning Team! (from left) Construction Yorkshire Business Support Officer Richard Town, Construction Yorkshire Director Rob Wolfe, Construction Yorkshire Project Co-Ordinator Catherine Fay, Bam Construction Leeds Arena Site Manager Gordon Alexander and John Croft from D Croft &  Son Ltd
Rob said:
This really was Construction Yorkshire's night. We were thrilled to have been nominated for three awards and, whilst we thought we might be in with a chance of winning one, we never imagined we would walk away with all three.

It was a fantastic occasion and these awards are for all the team members who have put in such great work over the last 12 months. We are now looking forward to the national awards next month.
In their citation, the judges said they were genuinely impressed by the overall approach taken by Construction Yorkshire in addressing all aspects of the submission criteria. The judges said:
They do what is says on the tin!

Given the effect the team has already had on the (Leeds Arena) project involving local companies and providing apprenticeships, this could be already challenging for a place at next year's awards.
Of Rob Wolfe, they described him as a "true ambassador for construction best practice" who had "quickly gained a reputation for making a difference – both locally and regionally".
The judges said that even though Catherine Fay had less than 12 months experience within the industry, she had had a "significant effect on the projects she has worked on, particularly with regard to Corporate Social Responsibility".
They added:
Her success lies in the relationships she has forged with individuals which in turn has enabled positive change to those organisations in which she and they work.
Having won at the regional level, Construction Yorkshire, Rob and Catherine have now been shortlisted for the Constructing Excellence National awards, being held in London on Friday, November 26.