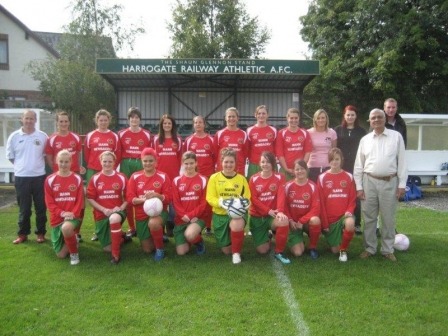 Harrogate Railway Ladies were away today at Brighouse Ladies and came away 2-5 winners in very wet conditions.
Brighouse are not a team to be taken lightly, as they proved last year against Railway, and certainly put the pressure on Railway for the first 20 mins.
On a greasy surface, ball control looked difficult for Railway to adapt to when time and time again they kept loosing possession to easy, which allowed Brighouse more possession and after 26 mins Brighouse opened the scoring with a fine strike.
Railway slowly found their feet and managed to put some pressure onto the Brighouse defence, with the ball played out wide to Nicola Hadley she took a run to the inside and was taken down 20yrds out, free kick. Issy Rowe stepped up to the mark and curled the ball into the top left corner on 38mins to make it 1-1.
After half time Railway came out faster and stronger determined not to drop any points, straight away Railway won 2 corners, but no goal. On 58 mins Hannah Campbell found herself on a run through the middle and keeping her cool, slotted the ball under the keeper to make it 1-2.
Brighouse came right back forcing some great defending by Railway, especially player of the match Catherine Swinn, Railway held on and 67mins Midd fielder Jodi Hodgson had a brilliant strike from 30yrds out to make it 1-3.
After this railway had a brilliant spell for 10 mins winning 3 corners in succession and on the 3rd it fell to Leah Mercer who drove the ball in for it to be somehow cleared off the line, and Ellie Mc Cloud got the second ball and put her name on the score sheet 1-4.
Brighouse did not fold and kept pressing but as they pressed gaps opened up for Railway and Hannah Campbell took full advantage and on another brilliant solo run drove the ball into the near front post 1-5.
With 4 mins to go Brighouse caught Railways defence napping from a well worked free kick to make the final score 2-5.
Next week Railway are at home ( station view) to face Keighley in the county cup 2pm KO