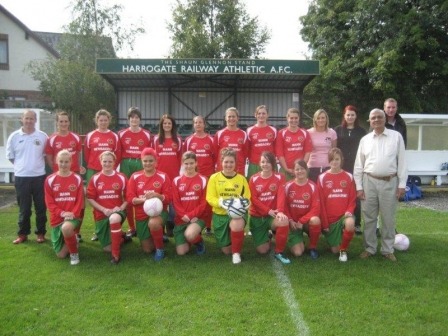 Hemsworth Ladies visited Harrogate Railway Ladies this week and found themselves facing a team full of confidence and goals!
It took railways formidable striker Hannah Campbell 16mins to bag her first of 6 goals after a great run from full back Sandra Clark who slipped the ball through for Hannah to place it in the far corner.
Again Railway kept possession and some slick passing found Dee Swales, who put her name on the score sheet after 30 mins to make it 2-0. On 36 mins left back Katrina Purvis put a great cross in which found Hannah again 3-0.
To be fair to Hemsworth they never gave up and did force some good saves from the railway keeper and at times did deserve a bit more luck.
Railway were up beat and increased the pressure in the second half only 4 mins gone and another great cross from the right for Nicola Hadley to score 4-0. When Martina Petrova came on she had a immediate impact constantly picking out players with dead shot passes.
On 61 mins and 68 mins Hannah destroyed the defence making the score 6-0, by now the wind had gone out off Hemsworth and they were unable to stop the constant barrage of shots coming at them with Dee getting her second 78mins, Katrina with a solo run from the halfway line scoring on 83 mins, and Hannah 2 more in the last 6mins, leaving the final score 10-0. Not the best game to watch at times but a very good 3 points to keep the railway ladies on top of the Premiere league.
Player of the match went to right back Ali Purvis for her hard work rate.
Next week Railway ladies are away at Brighouse, the team that beat railway in the semi-finals of the cup.