Schoolfriends Joshua Fuller and Toby Hansen battled 70mph winds, climbed 4000m high mountains and suffered severe bouts of illness during their 6,000km epic cycle ride across South America to raise money for charity.
The two former pupils of Belmont Grosvenor School, based at Swarcliffe Hall, Birstwith, near Harrogate, spent 101 days cycling from Argentina to Peru, via Bolivia, to collect cash for their two chosen charities.
And now the pair are back home in North Yorkshire, they are busy planning their next big trip!
The teenagers flew to Buenos Aires to begin their 6000 km cycle ride – but by the end of day one, having cycled up the Perito Moreno Glacier, an 18-mile long river of ice in Patagonia, the duo thought they had made a big mistake!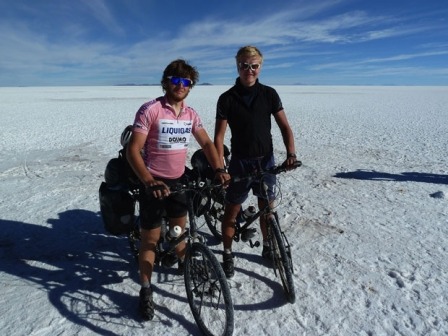 Toby and Joshua on top of the Salar de Uyuni, the world's largest salt, in Bolivia, South America
Josh, who lives in Killinghall, near Harrogate said:
On the first day of our ride the winds were really strong, about 70mph, and we had thought we would cycle about 40km up the glacier, but it turned out that the distance was about double that, and coupled with the wind, it took us about a day to get there.

Then Toby's chain broke on his bike and we got stuck in the freezing cold and had to hitch a ride in a pick-up truck to get back to camp for the night.

It was a serious wake-up call for us, and made us realize that the ride was going to be tougher than we anticipated and we had to start to get used to the environment.
The boys had spent months in training before embarking on their adventure to raise money for their chosen charities Ouch UK and Spinal Research. So far the pair have raised almost £4000 between them.
The 6000km ride was packed with highs and lows – one particular low point was when Joshua came down with salmonella after tucking into fried eggs on top of Salar de Uyuni, the world's largest salt flat which is 3600m above sea level in southwest Bolivia.
He continued cycling, putting his illness down to altitude sickness, before finally getting to see a doctor who diagnosed salmonella and prescribed a course of strong anti-biotics.
Toby then suffered altitude sickness, and the pair frequently ran low on supplies, and were forced to sleep rough at the side of the road when they didn't make it to a camp site or hostel by nightfall.
But the boys' highs outweighed the lows – one of their favourite places was visiting Machu Picchu, the 15th century Inca site in Peru and an incredible descent from 4300m to sea level through the Nazca desert of Peru.
Josh added:
It really was an incredible trip, we had the most fantastic time and met some wonderful people. It was very tough – some of the hills we were climbing were insane – but the scenery was amazing.
After flying home from Lima, Peru, the boys are already thinking about next summer and where to take their bicycles.
Jane Merriman, Headteacher at independent prep school Belmont Grosvenor said pupils had followed Joshua and Toby's adventures online and she looked forward to welcoming them into school to talk about the trip during an assembly.
Mrs Merriman said:
Toby and Josh have combined a trip of a lifetime with raising an amazing amount of money for their chosen charities.

Our pupils have been keen to follow their adventure and we look forward to welcoming them to an assembly to tell us about their journey and for the children to understand that apart from all the training and planning the pair overcame many obstacles before they were able to achieve their goal.

It is a great achievement and a great lesson in life for our pupils.