Livestock entries for 2011 Countryside Live have been announced, with an increase in both the cattle and sheep numbers. Cattle entries total 193, compared with last year's figure of 183, and sheep figures have increased to 274 as against last year's number of 252.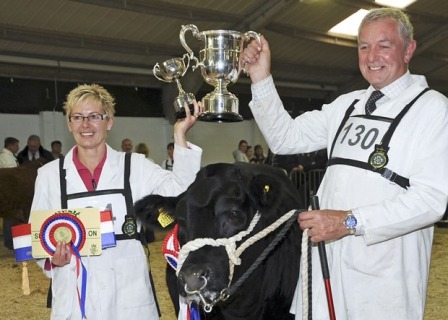 Supreme Champion Lady Big Bucks – Sharon & Phil Sellers celebrate their hatrick at Countryside Live 2010
The little sister of the Great Yorkshire Show, this will be the ninth Countryside Live. It takes place on Saturday 22 and Sunday 23 October at the Great Yorkshire Showground, Harrogate.
Bill Cowling, Honorary Show Director said:
Countryside Live is increasingly seen as a first class primestock show. We are absolutely full as far as the cattle are concerned, and have a waiting list of 40. With the sheep, it's hard to think where we could accommodate their tack if we were to try to squeeze in more entries! It's a nice problem to have, and indicative of the high esteem in which the show is held. We do appreciate the support from our exhibitors.
Livestock judging begins on Saturday morning at 9am and on Sunday at 8.30. It will be a case of "poacher turned gamekeeper" for Phil and Sharon Sellers! After winning the Supreme Beef Championship for three years in a row, they will leave their white coats behind and step into the ring as judges. Phil is judging the beef cattle and Sharon has responsibility for the beef young handlers classes.
Entries in the competitive classes overall total 2,716, slightly down on the 2010 figure of 2,838, although equine entries are still open. To date they add up to 212 compared with last year's final figure of 226.
Elsewhere around the event, equestrian experts Graham and Tina Fletcher will again be searching for a rising young show jumping star and the Olympia qualifying classes for Ridden Mountain and Moorland are sure to draw the crowds. For young farmers club members, Sunday is the important day when their stockjudging competitions take place.
The Diggerland Experience is a new addition, and for the first time the Festival of British Fruit will be held, showcasing around 25 different varieties of apples and pears. Around the showground there's have-a-go archery, The Sheep Show, dog agility demonstrations, sheepdog displays with 'The Mellins' of TV's The Dales programme and Ben Potter will again bring his birds of prey. And with youngsters in mind, there's the Story Barn and The FarmYard experience. Food is very much on the agenda with a wide range of stands from deliciouslyorkshire, ranging from pies to preserves.
Organised by the Yorkshire Agricultural Society, 90 per cent of the action takes place indoors, so it's guaranteed to be a hit whatever the weather. Last year's Countryside Live attracted 10,221 visitors.