Andrew Baker has left Bettys as their Chief Executive after he succeeded Jonathan Wild in April 2011 to take up the role in Harrogate.
Andrew Baker was formerly CEO at Duchy Originals, the organic food company founded by HRH The Prince of Wales. He has also held director roles at Cadbury Schweppes, Tate & Lyle and Premier Brands, as well as setting up and managing his own food marketing business in France.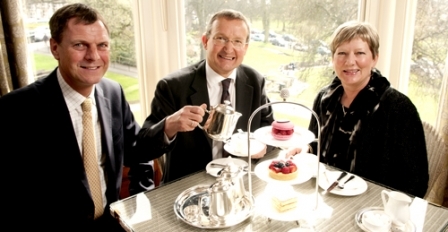 Jonathan and Lesley Wild take tea with Andrew Baker (left) pictured when he joined the company earlier this year
A spokeperson for Bettys said:
It is with regret that we announce Andrew Baker has left Bettys and
Taylors of Harrogate.

Andrew brought many admirable qualities and enormous experience to the
role, but he and the board both agreed that the longer-term ambitions
and cultural direction for the Group called for a different approach.

We wish Andrew every success for the future.
No indication has been given over who his successor will be.
 Bettys & Taylors welcome new Chief Executive