North Yorkshire Police unveiled their youngest and cutest recruits this week – Tyke, Toby and Sam – who have just joined the force's dog section.
Tyke is a three-month-old German Shepherd puppy and Toby and Sam are 14-week-old Springadors.
The puppies will join 34 other canine crime-fighters in the force's dog section who all perform a vital role in the fight against crime.
They currently live with North Yorkshire Police dog trainers who will take care of them for the next 13 months before they begin their specialist training courses.
Tyke is already earmarked to take over the reins as a General Purpose police dog and is due to replace seasoned crime-fighter, Police Dog Troy when he retires in 2013.
Sam and Toby will eventually be trained as specialist detection dogs, trained to sniff out items such as drugs, explosives and weapons.
Tyke's general purpose training will take 13 weeks, Sam and Toby's specialist training will take six to eight weeks.
Sergeant Simon Whitby, who heads the force's Dog Section, said:
They may be energetic and lively bundles of fun at the moment but they are already in training for their future careers.

During their puppyhood, they will be socialised with other police dogs, the wider community, and faced with day-to-day situations. This is to ensure they are comfortable and confident with the many situations they will be faced with during their career which will include tracking violent suspects, searching for missing people and sniffing out suspicious objects. Their suitability as police dogs will be continually assessed.
Once they have passed all their exams, they will be licensed, 'bone-a-fide' police dogs. They will train and be licensed together with their permanent handlers. They will then be assessed throughout their time with North Yorkshire Police to ensure they remain focused on the job.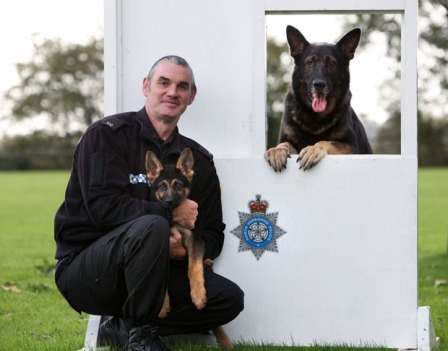 PC Dave Wheeler with puppy Tyke and PD Troy, Tyke will eventually take over from PD Troy
Sergeant Whitby added:
Police dogs are a huge asset to the force and perform an invaluable policing role. Our investment in training and care for the dogs is repaid ten-fold by their capability and contribution to policing.

They are cute, cuddly and bursting with energy at the moment but one day they will be instrumental in protecting our neighbourhoods and keeping the communities of North Yorkshire and City of York as safe as possible.
Tyke was born in South Wales and Toby and Sam were born near Northallerton, North Yorkshire.