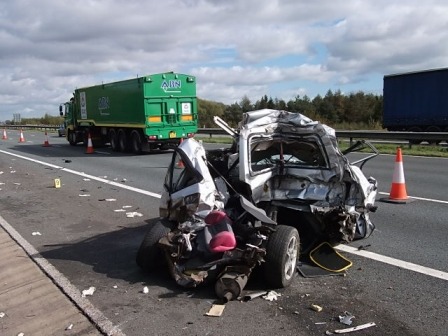 Police are appealing for witnesses after a motorist had a lucky escape on the A1 near Wetherby.
The driver of a silver Mazda 323, a man from Manchester, had to hurdle the crash barrier at the side of the carriageway to avoid a lorry as he stopped to change a tyre on the hard shoulder of the northbound carriageway.
He was looking for a spare tyre in the boot of his vehicle around one mile north of junction 46, just after 8.30am on Monday 19 September 2011, when he looked over his shoulder and saw a red Scania lorry heading straight for him.
He leapt over the barrier just before the lorry collided with his vehicle, completely writing it off.
Officers are investigating the circumstances surrounding the collision and are appealing to anyone who witnessed the incident to contact them with information.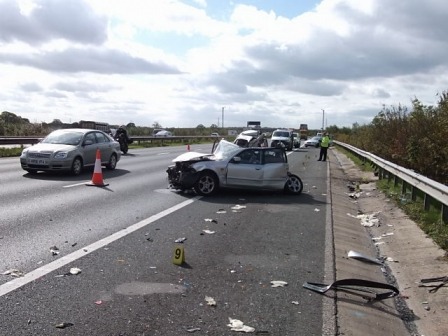 Traffic Constable Rob Roberts, of Harrogate Roads Policing Group, said:
The motorist had an extremely lucky escape and fortunately he was uninjured in the incident.

Something told him to look over his shoulder and if he hadn't, we could have been dealing with an extremely tragic outcome.

I am appealing to anyone who saw the collision or saw the red lorry prior to the incident to contact the police with information.
No one has been arrested in connection with the collision.
Anyone who can help the police with their enquiries is urged to contact TC Rob Roberts, of Harrogate Roads Policing Group, on 0845 60 60 24 7, quoting reference number 12110159309.
The yellow markers show where the Mazda was before the collision