If you fancy getting involved in a hobby that's sweeping Hollywood, then an event aimed at all the family being held in Harrogate next month is sure to appeal.
Countryside Live, which takes place on Saturday 22 and Sunday 23 October 2011 at the Great Yorkshire Showground, is now in its ninth year and attracts thousands of visitors over the two days.
A key feature which is popular with both children and adults alike is The Country Crafts Experience. Here visitors are offered the chance to try their hands at a wide range of activities and this year Women's Institute members will be encouraging visitors to copy the celebrities – including Hollywood actresses Julia Roberts and Cameron Diaz – and learn to knit.
In addition, members of the North Yorkshire West Federation of WI's will help youngsters use wool to make friendship bracelets and also try crocheting. The WI's stand also includes a display tracing wool back to sheep and a selection of knitted garments.
For the first time, a York-based stained glass artist Julia Spall will be demonstrating her skills, alongside Leicestershire-based carpenter Ian Varley, whose Funky Monkey Rustic Carpentry business specializes in green woodworking crafts, coppicing and bush craft skills. There will also be opportunities to make felt, create leather key rings, bake bread and even become a pizza chef.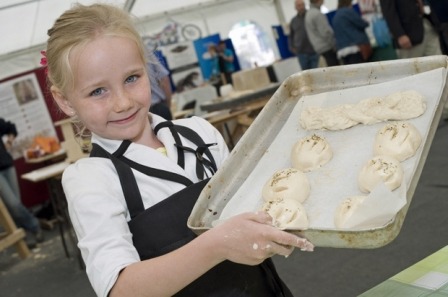 Young visitor getting to grips with baking at Countryside Live 2010
Also on the agenda are barrel making, willow weaving, corn dolly making, rope making and also the chance to get to grips with a potter's wheel and have a go at making a vase or bowl.
With youngsters very much in mind, there's interactive storytelling in The Story Barn and check out The Farm Yard where there will be plenty of animals as well as a mechanical horse.
Elsewhere around the event, the equine classes always prove a draw and equestrian experts Graham and Tina Fletcher will again be searching for a rising young show jumping star!
There are also classes with some of the best cattle and sheep in the country, the Diggerland Experience, have-a-go archery, The Sheep Show, dog agility demonstrations, sheepdog displays with 'The Mellins' of TV's The Dales programme and Ben Potter will again bring his birds of prey.
Organised by the Yorkshire Agricultural Society, 90 per cent of the action takes place indoors, so it's guaranteed to be a hit whatever the weather. Countryside Live is the sister event of the Great Yorkshire Show, England's premier agricultural event and last year Countryside Live attracted 10,221 visitors.
For more information go to www.countrysidelive.co.uk