The Harrogate District Community Safety Partnership has today thanked residents of Pannal for their excellent contribution to crime reduction in their area.
Enthusiastic residents turned out in force to listen and learn about what they can do to keep their property safe and secure.
Members of the Partnership announced that they would be visiting the village with a mobile exhibition…and over 150 eager residents of all ages turned out the next day either by foot, cycle or by car and one elderly lady even came by taxi to collect her information pack.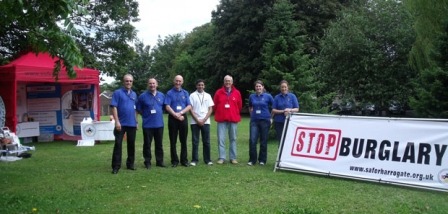 Councillor Nick Brown, Cabinet Member for Public Protection and Rural Affairs, says that the support for this sort of event will help make sure the Harrogate district remains a low crime area. He added:
Rather than raising the fear of crime, this event demonstrated that people are willing to take responsibility for their property and to be ever vigilant. Sometimes it is just a reminder that is needed and for those who wanted advice on how to secure their homes and property it was readily available for them right in the heart of their own village. Whilst there was a serious message to impart it was a friendly and two-way event with both sides learning from each other.

The Partnership is planning more of these events during the coming months. I hope other residents will be as enthusiastic. Together we can reduce the opportunity for crime and beat the burglar – it is as easy as keeping keys safe, locking doors and windows and keeping valuables out of sight.
Local councillors thanked the Partnership for the work they have done in their ward, which received strong support from local residents who are now more aware of the risks and how to keep their property secure.