More than 100 cyclists who took part in a pint-sized version of the Tour de France had the chance to sport yellow jerseys, thanks to its new sponsors.
Masham-based T&R Theakston – brewers of Old Peculier – threw their weight and name behind the annual Lower Dales Circle Charity Bike ride, which raised more than £5000 for good causes, including Help for Heroes and Cancer Research.
Now in its sixth year, participants, who raised a minimum of £35 to take part, started their 29 mile round trip from The George at Wath, stopping at various hostelries en-route to quench their thirsts with soft drinks.
Cycling Sponsor! T&R Theakston Executive Director Simon Theakston (right) with organiser Chris Wade (centre) and Kris Stephenson from the Freemasons Arms, Nosterfield
Organsier Chris Wade, from the Milbank Arms at Well, said:
I'd like to thank Theakston's for their generosity in supporting this event and providing the riders with the yellow jerseys.

So far we have raised a terrific amount for charity and all those who took part – plus those who helped out on the day and offered their support – need to be praised.

This is our version of the Tour de France. Even though we didn't have the Pyrenees to contend with, some of the hills were quite a challenge!
He added:
We were lucky with the weather and everyone completed the 22-miles circular route without incident. The only pumps that were used on the day were the Theakston's beer ones at the end!
T&R Theakston Executive Director Simon Theakston, who was part of "Team Theakston", said:
This was a great event to be involved in, as both participants and sponsors

Because it wasn't a race, everyone was a winner – hence the yellow jerseys. Even though it was only correct that free soft drinks were dispensed to the cyclists at the various pubs along the way, we all particularly enjoyed a pint of Theakston's at the end of our journey.
Charities to benefit from the proceeds of the Lower Dales Circle Charity Bike Ride were Yorkshire Air Ambulance, Ovarian Cancer Action, British Heart Foundation, Help For Heroes, Tommy's Kids with Leukemia, Macmillan Nurses, Cancer Research and Alzheimer's.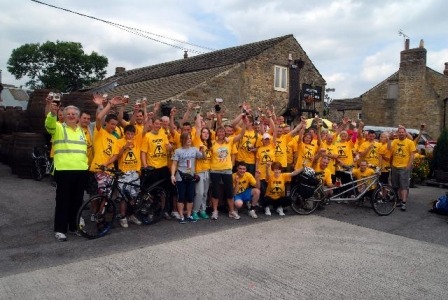 Cheers! Participants in the T&R Theakston sponsored Lower Dales Circle Charity Bike Ride
Uphill Struggle! Cyclists in the T&R Theakston sponsored Lower Dales Circle Charity Bike Ride tackle one of the hills along the 29 mile route