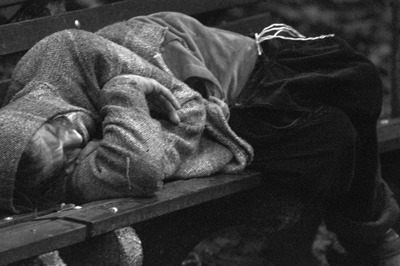 North Yorkshire County Council is joining forces with the county's seven district councils along with housing associations and accommodation agencies to create a single, streamlined budget and workforce to tackle homelessness among young people.
In one of the first initiatives of its kind in the country and drawing on national best practice, the county and district councils are launching an innovative one-stop service funded by a single community budget in order to deal effectively with what is expected to be a growing problem in coming years.
Six homeless prevention hubs will operate around the county from the autumn, staffed by newly created youth homelessness prevention workers, working closely with housing officers. These hubs will become the first point of contact for 16-25 year olds who are faced with homelessness, so they no longer have to be shunted around a range of agencies. This initiative has been a response to issues raised by young people and the professionals who work with them. One of these hubs will be located in Harrogate.
The hubs are part of a county-wide framework which represents a £1m investment on the part of the county council and its partners in a budget intended to guarantee a top-class prevention service. Wherever they are in the county, vulnerable young people threatened with homelessness will have access to common and consistent support intended to keep them wherever possible at home with their families or achieving successful independence.
This support represents a pathway which starts with work in schools and community settings, educating young people on homelessness issues and encouraging them to remain in the family home; this moves on to targeted preventative services, identifying and working with young people who have reached crisis point; the next step if necessary is short-term overnight emergency accommodation and then longer term supported accommodation for priority cases and for young people where there is a statutory duty.
County councillor Carl Les said:"The Government is urging the use of community budgets and in this instance we have just got on with it, pooling our resources to offer best practice and support for some of the most vulnerable young people in our society. The contribution from the district councils and our other partners has been crucial to enabling this to happen. We believe this framework and the introduction of prevention hubs will help to reduce repeat homelessness as well as homelessness among young people altogether. In effect this is a mediation service for young people in danger of ending up on the streets."
A forerunner of the homeless prevention hub has already been operating in Scarborough for some years after the Department for Local Government and Communities became concerned at the number of young people ending up in bed and breakfast accommodation. Scarborough attracts a high proportion of young people moving into the area every year and in 2006/7 the county council and borough partners identified up to 24 young people aged 16 to 17 in bed and breakfast accommodation; but last year and so far this year there have been none. As a result of this success the decision was made to create such hubs across England's largest rural county where homelessness is often a hidden presence.
Although this county-wide initiative commands significant resources it represents a substantial saving in real terms. The setting up of a community budget has enabled the stripping out of unnecessary management levels from former piecemeal services as well as providing economies of scale. The county council believes it represents a leading example of how more can be achieved for less.
Cllr Les added:
We believe this initiative will become a national exemplar. Homelessness prevention hubs have already proved successful in Scarborough and also in a pilot in Ryedale and we are convinced that they will improve outcomes for the young and vulnerable across the county; representing true value for money.