There is great news for residents of the Duchy Estate, who were dismayed to lose their only bus service, the X59 operated by Harrogate and District Transport, which used to pick up passengers on its journeys between Harrogate Bus Station and Skipton. This service ceased on 16th April 2011, leaving bus users with a new bus shelter on Duchy Road, but no buses to stop at it.
Another local bus operator has come to the rescue of residents: Connexionsbuses, which runs a fleet of distinctive green and white buses, will be introducing a 4-times-a-day service to and from Harrogate Bus Station every weekday from Monday 5th September, dedicated to the Duchy Estate. There will be 3 services on Saturdays.
The new service 112 will operate from the Bus Station via Cornwall Road, Hereford Road, Duchy Road and Ripon Road departing the bus station at 1030 hours, 1230 hours, 1430 hours and 1630 hours and departing from Duchy Road 8 minutes later.
Harlow Moor councillor, Don Mackenzie, welcomed the news:
What great news for our residents after the shock of losing our bus service four months ago! I have discussed the new service with Connexionsbuses, and can confirm that this is a fully commercial route, with no subsidy from the taxpayer. Concessionary bus passes will be acceptable for free travel for bus pass holders. I urge Duchy residents to make regular use of this bus, so that we do not lose our bus service again.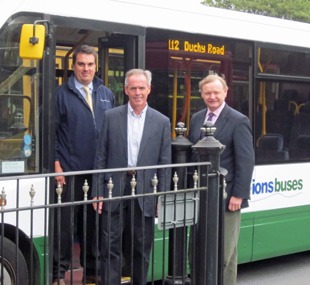 Connexionsbuses MD, Craig Temple with Harlow Moor councillors, Don Mackenzie and Simon Theakston
The timetable summary:
Depart Bus Station – 10.30 12.30 14.30 16.30*
Hereford Road – 10.35 12.35 14.35 16.35*
Duchy Road shelter –10.38 12.38 14.38 16.38*
Arrive Bus Station – 10.42 12.42 14.42 16.42*
*NOT SATURDAYS