Yorkshire Water has now completed a £700,000 scheme to improve its sewer system which will help reduce the risk of internal flooding to nearby homes.
Yorkshire Water's engineering contract partners Mott MacDonald Bentley, carried out the project which involved the installation of a large storm water storage chamber within the grounds of Harrogate District Hospital, capable of holding more than 425,000 litres of water – equivalent to a fifth of the volume contained in an Olympic swimming pool.
The work was part of Yorkshire Water's £120million investment to upgrade its sewer network and treatment facilities in order to further reduce the risk of sewer flooding which can occur when sewers become overloaded during times of heavy rainfall.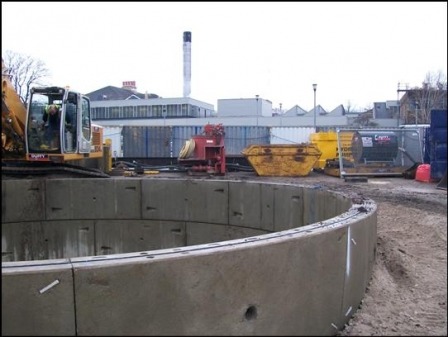 Storage tank in the early stages of construction
John Bond of Yorkshire Water's community engagement team, said:
This scheme was particularly difficult as it involved working close to local homes, within a hospital car park with traffic lights outside the ambulance station. The hospital were incredibly understanding and due to their continued support, we were able to complete the storage tank on time. In appreciation of their support, we have offered them a goodwill gesture of £1000 which they will be putting towards their planned new cancer unit.

We believe, like our customers, that sewer flooding is unacceptable.

And whilst we can't tackle the problem by ourselves, this latest investment underlines our continuing commitment to playing our part in helping to reduce the risk of sewer flooding to our customers and operating as a responsible company dedicated to providing customers with the best possible service.
Angie Gillett, Deputy Director of Planning for Harrogate and District NHS Foundation Trust, said:
We were happy to work in partnership with Yorkshire Water to enable this work to go ahead, as it will alleviate the flooding experienced by our neighbours as well as on parts of the Hospital site.

We are grateful for the patience of our staff, visitors and neighbours during this important work and would also like to thank Yorkshire Water for their generous donation, which will form part of our investment in the planned new multi-million pound Sir Robert Ogden Macmillan Cancer Centre.

The storage tank in the final phases of completion
Yorkshire Water's £120million investment over the next five years will enhance its sewer network ensuring it is better able to deal with the increasing flows of waste water which run through it. On top of this, the company will also be installing more pumping stations around the region which help to speed up the sewage treatment process.
The investment will benefit hundreds of customers across the region who might otherwise have been at potential risk from sewer flooding and serve to reduce the likelihood of sewer flooding in the region during storm conditions.