A Masham brewery has been tasked with completing a "tall order" by a North of England family attraction!
The Forbidden Corner commissioned T&R Theakston – whose famous Old Peculier ale is shipped world-wide – to make a giant-sized beer barrel which will form the centre piece of a new display being launched next year.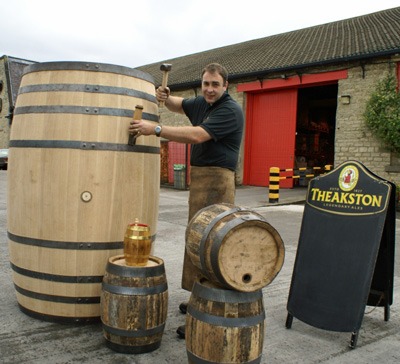 Vat'll do nicely! Theakston Cooper Jonathan Manby with his giant cask
The container fashioned by Jonathan Manby, one of only two craft Coopers in the UK, stands at 6ft tall, is 4ft at its widest point and, if filled with beer, can hold in excess of 300 gallons or 2,400 pints.
Using the traditional materials of oak and steel, it took Jonathan – who makes more than 500, nine gallon beer barrels a year – a week to complete.
He said:
This is the biggest barrel I've been asked to make in my 17 years working as a Cooper at Theakston's. It certainly was a 'tall order', but one that I was more than capable of achieving.

The casks I usually turn out are a little smaller and filled with Old Peculier. On this occasion, this cask won't be containing beer, but something else!"

T&R Theakston Executive Director Simon Theakston said: "Jonathan is a brilliant Cooper and we are proud that this traditional trade is being kept alive at Theakston's. The casks he makes safely transport our Old Peculier to destinations all over the country.

This giant cask will now be making an appearance next year, so anyone going to the Forbidden Corner in 2012 should keep their eyes peeled for it. It will certainly be a talking point!