West Yorkshire Police's sniffer dog team has welcomed two new recruits after the arrival of Harley and Juno to the unit.
The two Labradors, aged 17 months and 15 months have been with the unit since 15 July, having been put through their paces to ensure they are up to the demanding job.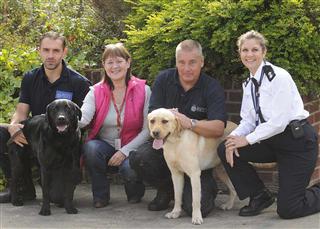 left to right – Kini (Kennels Manager), Maggie Gwynne, PC Steve Norman and Inspector Lorna Meredith with Harley and Juno
They were donated by the charity SDUKI (Sniffer Dogs United Kingdom and International) to help in the fight against crime.
Inspector Lorna Meredith of the West Yorkshire Police Dog Section, said:
When we were approached by the charity to see if we would be interested in having two dogs we leapt at the chance.

Harley and Juno make a great addition to the team and will play a vital role in our fight against crime.

I am very grateful to the charity for coming forward and making this important donation.
Maggie Gwynne, the Chief Executive and founder of SDUKI, said:
We are delighted to have been able to assist West Yorkshire Police in funding 2 new passive drugs dogs, Harley and Juno, which are the 4th and 5th dogs to be funded by the charity. The previous 3 having been funded for Cumbria and Staffordshire Police.

We are the only charity working directly with the UK Police, and have the full backing of ACPO National Police Dog Working Group. Their endorsement can be viewed on the News Page of our website www.sduki.org.uk , as well as video footage of the handovers of the previous dogs.

We urge the general public to get behind SDUKI, and help us to ensure that the Police have the resources, to do the often dangerous work we ask them to do.

Dog Sections are very important, and more necessary than ever before.
Maggie was on hand to present the two new dogs to Insp Meredith and her team.
SDUKI donated West Yorkshire Police £1,500 to cover the cost of purchasing the two dogs.
And Harley and Juno aren't the only new arrivals at Carr Gate.
Police Dog Grace recently gave birth to a new litter of nine puppies. This is Grace's second litter. Police Dog Luger is the proud father.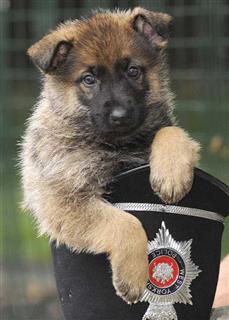 One of the new puppies
This is one of the biggest litters ever to be bred by the Force.
Inspector Meredith said:
These little bundles of joy are a very welcome addition to the dog unit and we hope they will grow up to play an active role with West Yorkshire Police.

They are obviously still at the very cute stage at the moment and we are providing round the clock care to them to help them to develop into working police dogs.