The Army Foundation College trains over 1,200 Junior Soldiers each year over a 42 week course, giving 16 and 17 year olds military and vocational training before a a career in the British Army.
Intake 25 Graduated yesterday (18th August 2011) during a parade at the College situated just outside Harrogate.
546 Junior Soldiers marched on the parade square at Uniacke Barrack in front of around 4,000 friends and family. This is the summer passing-out parade and the largest Army parade in Europe, after the Trooping of the Colour.
The parade was led by the College's top student, Junior Regimental Sergeant Major Adam Cundy, 17 from Ashbourne, Derbyshire who gave the final command and escorted the reviewing Officer.
Junior Soldier Colby-Jensen-Watts, 17 from  Kings Bromley, Staffordshire was the youngest of four brothers to join the British Army. Colby will serve alongside them in the Mercian Regiment when he finally completes his infantry training at Catterick at the end of the year.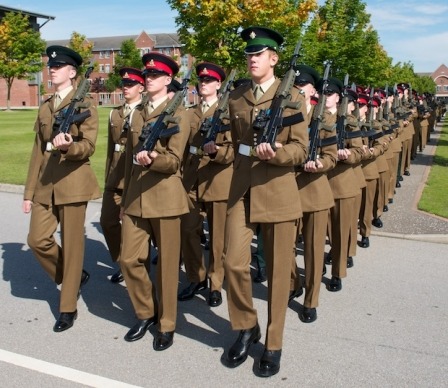 Senior Army Officer Major General Dick Davis CBE, the Director General of the Army Recruiting and Training inspected the Junior Soldiers. The College's Commanding Officer, Lieutenant Colonel Khashi Sharif and other member of staff from the College's Cambrai, Peninsula an Waterloo companies accompanied him.
Lieutenant Colonel Khashi Sharif said:
Twelve months ago the men and women of intake 25 embarked upon a journey that has been long, demanding and at times emotional.

They are a testament to the very best of this nation's young people and we can be rightly proud of their achievement.

They have taken that huge stride from civilian to soldier and I have no doubt that they are now fully prepared and armed for the rigors of their phase 2 training as well as the Field Army beyond that.

They follow in the illustrious footsteps of the thousands of soldiers who have previously passed out from the Army Foundation College and forged a great career in the British Army.
Further images are on the Harrogate-News Facebook Page