An international drugs trio has today been jailed after Skunk Cannabis worth an estimated £150 million was imported into the UK during 2008 and 2009 secreted inside boxes of fresh flowers.
It follows a major joint operation by West Yorkshire Police and West Mercia Police into an Anglo-Dutch organised crime group that was importing cannabis from The Netherlands to West Yorkshire and the West Midlands.
A total of eight Dutch Nationals appeared before Leeds Crown Court with three of the men hearing how they will spend a total of 26 years behind bars for their roles in a conspiracy to import and supply Skunk Cannabis to other criminal gangs within the UK.
Using a legitimate business front, Flowexpo B.V. (Ltd) in Holland, the trio were involved in buying boxes of fresh flowers at auction and hid the drugs inside before using legitimate haulage companies to transport the boxes from Holland to England. Each shipment was destined for Leeds, Bradford, Redditch or Birmingham.
Johannes Elmendorp
Johannes Elmendorp (51) of Vandans, Austria was the organiser of the operation in the UK and the sole director of Fresh Flower Concept Ltd – a UK registered company for whom consignments were destined for, to be distributed to sites in Leeds, Bradford and Birmingham. He was sentenced to 18 years and a Serious Crime Prevention Order was also granted. This prevents him from accessing, importing or exporting to the UK.
Terence Koetsier
Terence Koetsier (22) of Rotterdam, Netherlands, was responsible for taking delivery of most of the shipments in West Yorkshire and supplying them to Organised Crime Groups from Leeds, Birmingham and London. He was sentenced to 2 years .
Arie Menno van Esch
Arie Menno van Esch (30) of Wijk en Aalburg, Netherlands organised the delivery of the flower boxes containing Cannabis and controlled the onward distribution to UK based Organised Crime Groups. He was sentenced to 6 years.
Jacob Schreuders (38) of Veen, Netherlands, Edilson Dos Santos (24) of Rotterdam, Jonathan Elmendorp (29) of Leeuwarden, Theodorus Klaasen (60) of Kingstanding, Birmingham, Sajid Mahmood (34) of Saltley, Birmingham were all found not guilty by the jury.
The investigation spanned Western and Eastern Europe, from the UK to Ireland, Holland, France, Germany, Italy and the Ukraine and involved West Yorkshire Police working closely with West Mercia Police and both the Dutch and German Authorities and the Serious and Organised Crime Agency (SCOA) to snare the gang.
West Yorkshire Police launched an investigation on 3rd October 2008 and, using covert tactics and intelligence gathering and officers from the Force's Organised Crime Group, established that between June and October 2008 this criminal gang accomplished 52 deliveries from Holland to West Yorkshire with an estimated street value of £73.5 million.
The Dutch Authorities also intercepted three further consignments of Skunk Cannabis weighing a total of 495 kilograms in October 2008 destined for West Yorkshire. The drugs held an estimated street value of £4.2 million.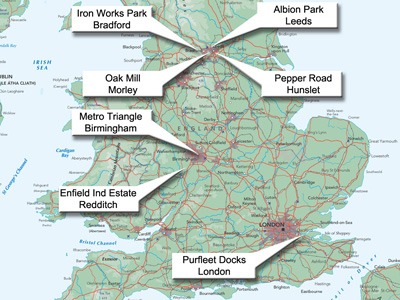 Storage units were used at Pepper Road, Hunslet in Leeds, Oak Mills in Morley, Albion Park in Stanningley and on The Iron Works, Bowling Back Lane in Bradford.
In September 2009 HM Customs seized a shipment of flowers containing Cannabis at Purfleet Docks on the Thames Estuary with an estimated street value of £1.4 million.
The flowers had been exported by Joseph Flowers in Holland and were due to be delivered to the Fresh Flower Concept Ltd in Redditch.
West Mercia Police's Serious and Organised Crime Unit began an investigation and the flowers were allowed to be delivered, however the drugs were removed. Once they reached the Redditch site the flower boxes were then transported immediately to a second storage facility in Birmingham and Klaasen and Mahmood were arrested.
West Mercia Police established that between February and September 2009, 52 more deliveries were made to the Fresh Flower Concept Ltd. also with an estimated street value of £73.5 million.
During the investigations conducted by West Yorkshire Police, West Mercia Police and the Dutch Authorities, a total of 8 men were arrested and it has been established a total of 102 deliveries were made to the UK with an estimated total weight of 16.8 tonnes equating to £150 million.
In total £6.8 million worth of Cannabis was seized as part of this operation.
Detective Chief Inspector Michael McDermott of West Yorkshire Police's Crime Division said: "This was a complex investigation which involved working closely with West Mercia Police and the Dutch and German Authorities.
"The use of covert tactics and information sharing between law enforcement agencies proved to be the key to smashing this international criminal drugs gang and bringing the offenders to justice.
"My dedicated team of detectives travelled around Europe collecting evidence and intelligence and making a number of the arrests before arranging their extraditions back to the UK to appear before the courts.
"Legitimate companies were used as fronts for their criminal activities. This allowed them to use haulage companies and arrange storage for their flower importations.
"Despite purporting to be legitimate businessmen they would often use false identities and were careful to only use cash when hiring rental space and settling hotel bills.
"When the individuals were in the UK, international money transfers would be made so they had large quantities of disposable cash.
"They would book return flights to Holland at short notice and would purchase a number of mobile phones which were then disposed of once a crime had been committed.
"All of their tactics were used in an attempt to avoid law enforcement agencies in the UK, Holland and across Europe and to fool innocent people into doing business with them.
"This is a staggering amount of drugs which we believe has been able to enter the UK, however thanks to the lengthy investigation and the painstaking work of detectives in West Yorkshire this gang are unable to operate anymore."
Detective Chief Inspector Dave Andrews of West Mercia's Serious & Organised Crime Unit added: "Thanks to vigilant staff from UKBA in Purfleet Docks, one shipment of drugs was intercepted, and this enabled West Mercia Police to focus resources on identifying new members of this organised crime group.
"Like West Yorkshire Police, we benefited from the help of overseas law enforcement agencies, as well as members of the public in the UK, all of whom contributed evidence to the investigation, leading to these convictions."
Clare Stevens, Crown Advocate with CPS Yorkshire and Humberside's Complex Casework Unit said: "This case has been long and complicated. It has involved a considerable amount of international liaison which included the extradition to the UK of six of the eight defendants.
"This case has been long and complicated. It has involved a considerable amount of international liaison which included the extradition to the UK of six of the eight defendants.
"Before we could ask the foreign authorities to extradite these men, it was vital that all the evidence gathered from abroad was admissible in our courts. To do this, I dealt with the authorities in Holland, Germany, Ireland and France.
"Having secured the co-operation of these countries, officers from the West Yorkshire Police were able to travel abroad, make the necessary enquiries and gather the evidence. It was only once the evidence had been gathered and the case against each defendant had been built that I was able to apply for European Arrest Warrants. Having been granted European Arrest Warrants, the arrest, extradition and trial of these defendants followed swiftly thereafter.
"This intensive work by West Yorkshire Police, West Mercia Police, the Metropolitan Police, the Crown Prosecution Service and the foreign authorities has culminated in the three guilty verdicts handed down by the jury. Those found guilty of this criminal enterprise are facing substantial sentences and their criminal enterprise has been smashed. This sends out a clear message that anyone attempting to run this type of large scale criminal activity in our country will be searched out, arrested and will face prosecution in our courts for their actions."