Masham brewery T&R Theakston has "rolled out the barrel" to support a village cricket team in its efforts to raise money for a national cancer charity.
The company gave its support – and three barrels of Lightfoot – to the annual Crakehall XI v Emmerdale XI Charity match, which was held in aid of the Prostate Cancer Fund.
The Emmerdale team – captained by Chris Chittel, or Eric Pollard in the ITV1 soap, and consisting of cast and crew – were soundly beaten by the Crakehall team.
T&R Theakston executive director Simon Theakston said: "This is the first time we have been involved with the annual Crakehall charity cricket match, and we were delighted to lend our support to it.
"It was a splendid afternoon of cricket – and even the weather managed to behave itself! I'm pleased to say that in addition to raising money for an extremely good cause, our Lightfoot ale appeared to be as well received as the Emmerdale cast members."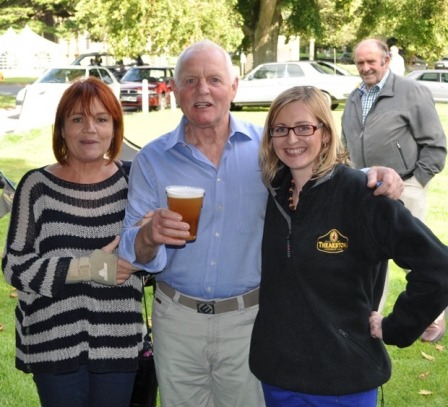 Theakston's Victoria Bramley (right) with Emmerdale stars Lesley Dunlop and Chris Chittell