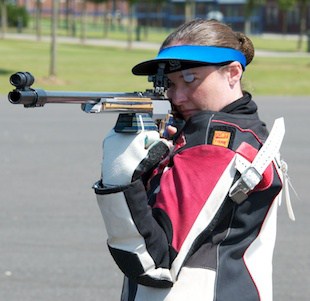 A member of military staff serving at the Army Foundation College in Harrogate has set her sights on gold after being selected to represent England in small-bore shooting.
Staff Sergeant (abbreviated "SSgt") Zoë Bruce, a finance administrator within the College's Headquarters, finished in fourth place at the British Championships held at Bisley in Surrey last month to secure her place at the Team England Shooting Academy.
The 35-year-old from Plymouth, who is already the current British Army and Inter-Services champion, explained: "I haven't peaked yet, there is definitely still more to come.
"I want to be top of the pecking order in the England squad.  And I hope I could make the Commonwealth squad for 2014, which will be up in Scotland.
"I've been doing this sport for 15 years but two years ago I decided that I wanted to try and make the national team.  Now I have got my place in the Academy I will have a coach and a personal trainer – something I haven't had since I started.  I am hoping that I can rise quickly now that I have somebody looking after me."
SSgt Bruce is a passionate advocate for small-bore shooting and describes her recent performance at the British Championships as her greatest achievement to date.
She said: "I managed to come fourth and what was good about that was I hadn't shot very well.  I came off the firing point and I was a bit disappointed because the conditions were quite tricky and I was shooting against people who had been to World Cups and Commonwealth Games and walked away with medals."

Staff Sergeant Zoë Bruce is a finance administrator currently serving at the Army Foundation College on Penny Pot Lane
TALENT
Small-bore shooting is an Olympic discipline, characterised by single loaded rifles, with 5.6mm calibre and a maximum overall weight of 6.5kg for women.
As the reigning Army champion SSgt Bruce has been an inspiration to the teenage Junior Soldiers training in the indoor ranges at Harrogate.  The Army Foundation College's small-bore team have also enjoyed success this year, winning the unit title and fielding most of the team that won the Inter-Services championships.
"They've done very well," continued SSgt Bruce proudly.  "We've just won the indoor short range Inter-Services for the second year in a row and the team was made up of eight Junior Soldiers and only four adult soldiers.
"They're very, very keen and it's nice to see when they do progress and develop so well.  I particularly like that it's a skill that they can then use with their service rifle shooting, so they then can take away quite a lot."
She concluded: "It's not an easy sport and it's still something that I haven't managed to master.  It's very difficult to try and achieve perfection and you just have to keep chipping away.  I started 15 years ago – and I've been having a go ever since to try and find perfection."
The Army Foundation College is located at Uniacke Barracks on Penny Pot Lane, Harrogate.  The College trains more than 1,200 Junior Soldiers each year over a 42-week course, providing the 16 and 17-year-olds with military training and vocational education ahead of a career in the British Army.
For the latest news from Uniacke Barracks on Penny Pot Lane follow the Army Foundation College's Twitter feed @AFCHarrogate.
___________________________