On Tuesday 3 August, Harrogate International Centre (HIC) signed a three year deal that will see the Harrogate Christmas & Gift Fair and the Harrogate Nursery Fair remain in Harrogate until at least 2015.
Both shows will be expanding to make use of HIC's new event halls – due to be completed in late 2011. The events will have a substantial economic impact on the destination, bringing in excess of £10 million revenue each year to the town and district.
Robert Anslow, a director of the two shows, commented: "HIC has invested more than £11 million in their new halls and we are keen to demonstrate our own desire to continue investing in the venue and destination by committing to holding our events here for at least the next three years.
"The Harrogate Christmas and Gift Fair first came to Harrogate more than 60 years ago, when it was simply called the Harrogate Toy Fair; during this time we have seen dramatic changes in HIC's offering in terms of both space and facilities. However, the one thing that has remained constant is the service levels and desire to work in partnership, helping us create industry renowned shows.
"The development of the new halls underpins everything that is great about Harrogate and HIC, clearly demonstrating both the destination and venue's desire to grow and meet the needs of modern trade shows and events. The use of the new space for our 2012 shows has allowed us to grow and respond to the needs of our exhibitors and visitors."
Angus Houston, HIC director, commented: "Renewing our partnership with these two iconic shows reflects the importance HIC places on its core business and clients and celebrates the unique bond that Harrogate as a destination has with Robert and this team, which has been built up over many years.
"These are two of the largest shows we have here in Harrogate, utilising not just space at HIC but also accommodation and third party suppliers, all of which I'm sure will be delighted to hear about their decision to remain with us for the next three years."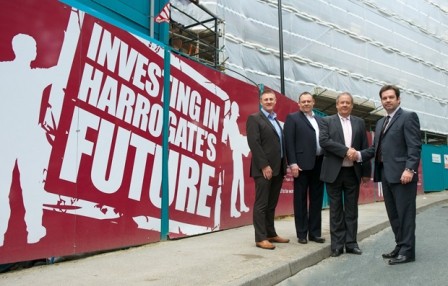 Adrian Sneyd, Simon Anslow, Robert Anslow (all from Harrogate Christmas and Gift Fair/Harrogate Nursery Fair) and Angus Houston (HIC director)
Harrogate Borough Council leader, and HIC Board Chairman, Don Mackenzie, welcomed these developments: "This is excellent news and well done to all who have played their part in securing these bookings. I thank Robert Anslow for the confidence he has placed in HIC and in our district, and we look forward to welcoming his shows to our newly-expanded facilities".
The Christmas and Gift Show first came to HIC 63 years ago. It is the first "Christmas Show" of the year, taking place in January; and it attracts a global attendee list, including major household names and buyers. The Nursery Fair has been held in Harrogate for 43 years, is held in March each year and attracts a huge range of UK based buyers from all the major retailers to the many smaller independent retail outlets.